What is Customer Satisfaction?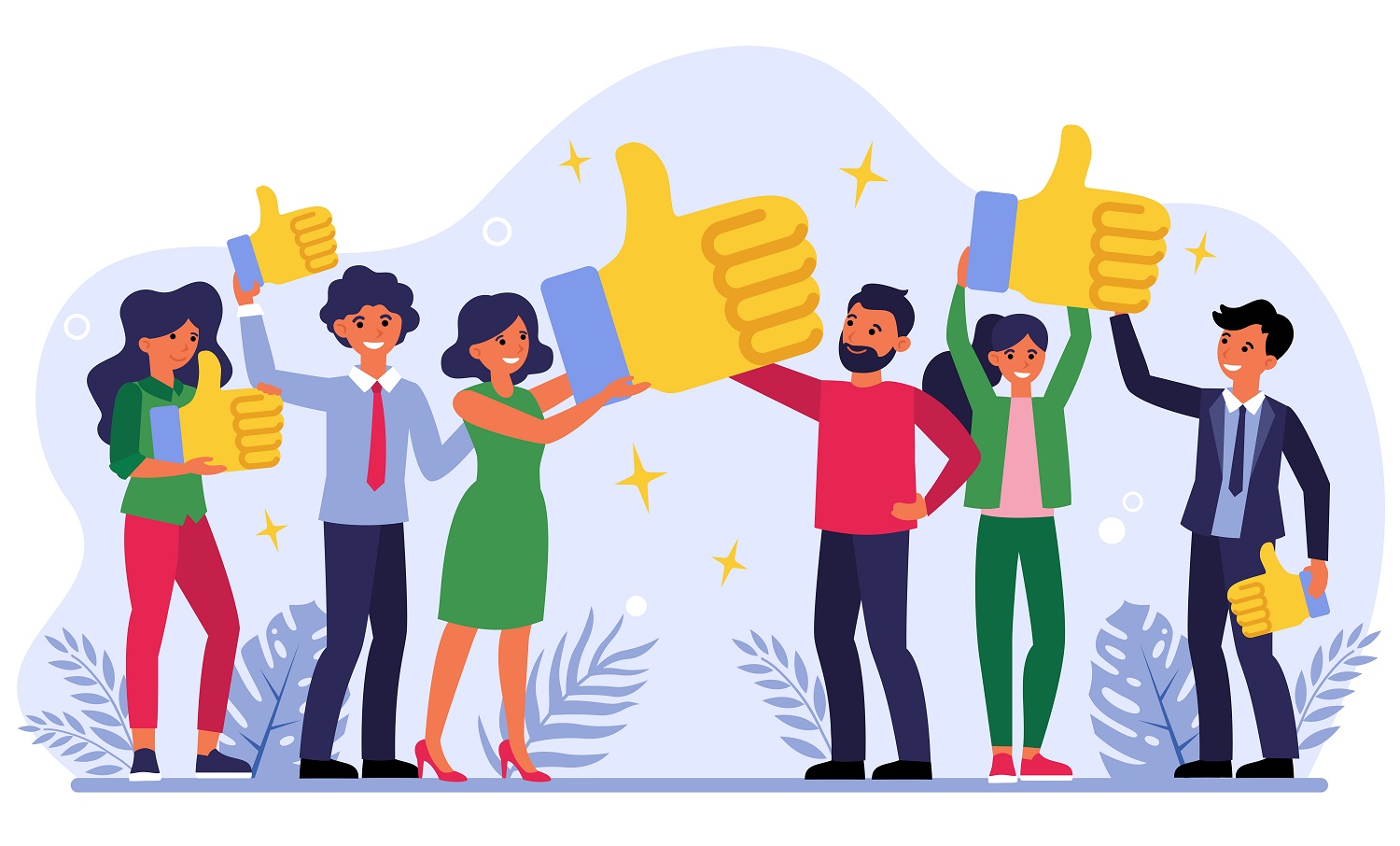 Happiness is the keyword for customer satisfaction. Customer satisfaction (CSAT) is a metric used when your customers are happy with your products, services, or experiences. We can measure the degree of customer satisfaction with the customer satisfaction survey.
Steve Walker predicted that in 2020, customer experience is the primary discriminator in a customer's decision to buy a product or service.
So if you provide a better experience for your customers, you are the winner. You have to measure your customers' feelings about your brand's product and service to be sure about their happiness and satisfaction. But why and how to measure customer satisfaction and their experience of the brand?
Why is Customer Satisfaction Survey Important?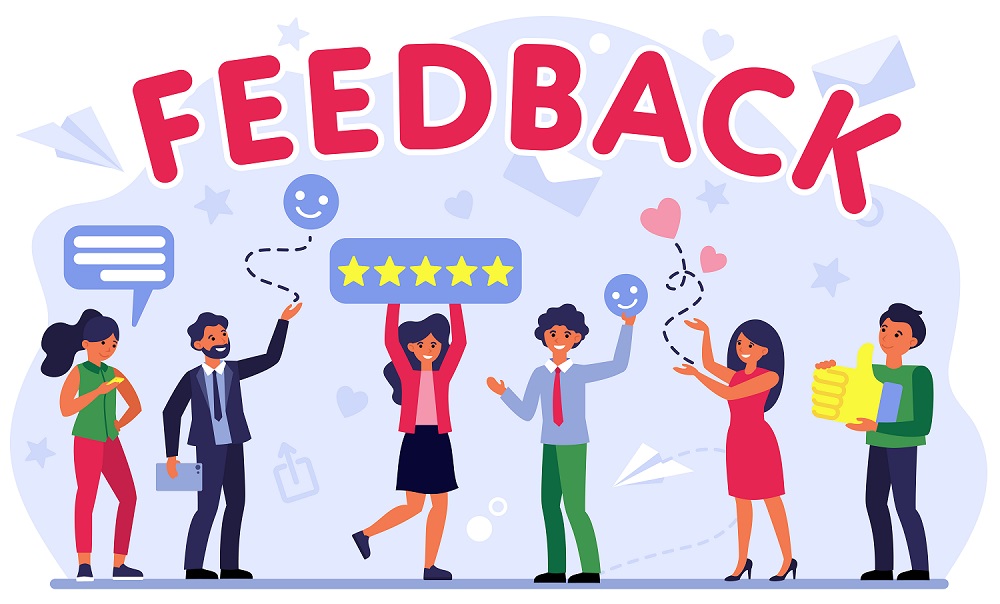 As we said earlier, the customers' good experience makes you rich. Companies trying to make their customers satisfied are more likely to experience an increase in revenue and growth.
When a customer is happy with your brand and has a good experience buying your products or services, why should he go elsewhere?
Now, you know the importance of customer satisfaction; you may probably ask why a customer satisfaction survey is necessary?
The answer is simple:
The customer satisfaction survey is the easiest and fastest way to see your customers are at which level of satisfaction.
Remember:
If you have 26 unsatisfied customers, only one complains, and the other 25 customers leave you!
By creating a client satisfaction survey, you will ensure your brand position in the market, and you will not lose the game to your competitors.
What is the Customer Satisfaction Survey?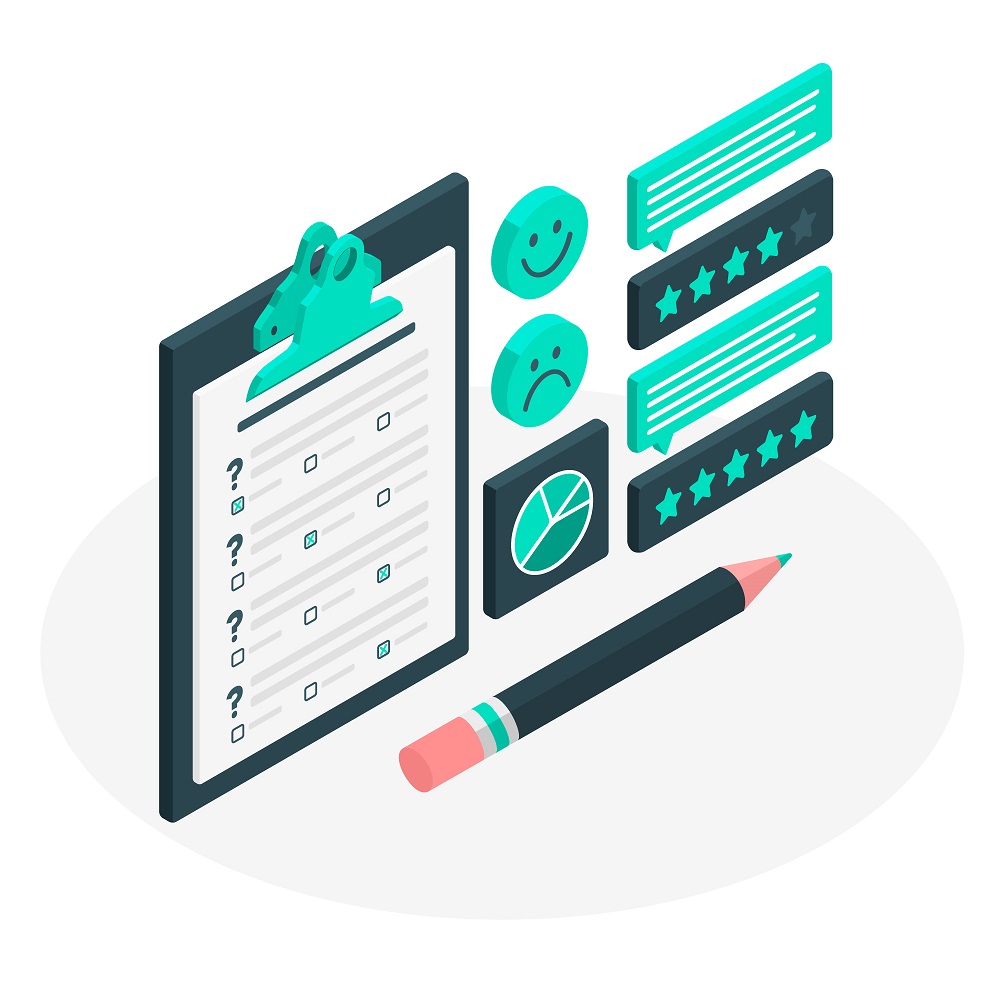 A customer satisfaction survey, or customer feedback form, is a template for asking some questions about your service or product quality, design and functionality, price, brand, rivals, personnel, and delivery.
Before the digital era, CSAT surveys were written on a piece of paper. Imagine a customer in your company is in a hurry, and you insist on filling the form! He chooses some answers randomly and gives you the paper.
Can you imagine a situation worse than that?
Nowadays, the customer satisfaction survey is digitalized. It is online, and your customer can fill it when it was possible.
You can send your customer feedback form after they left your restaurant or shop.
These client satisfaction surveys can be designed in different themes and sizes. You can put 5-10 or more questions on it.
By knowing your audience's comments about your brands, you can make changes in your company's different parts to attract more customers and make them more satisfied.
But the critical point is that you should choose the right questions to ask. Because it is by crafting quality questions, you will know the customer's opinion or feedback.
How to Create and Write a Customer Satisfaction Survey?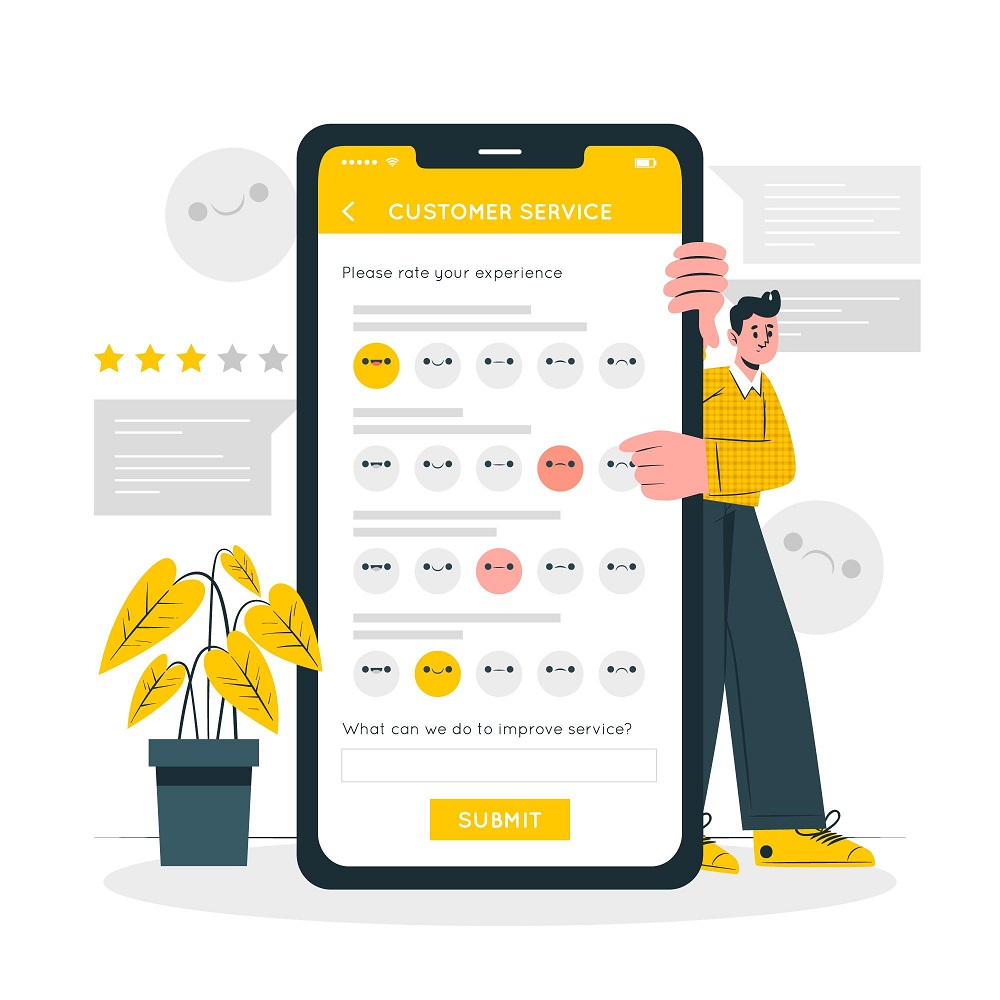 There are five steps to consider in writing a useful customer satisfaction survey questionnaire. To make an impression on your customers and be apart from the masses, you need to focus on your customer satisfaction survey template.
First Step: What are Your Goals for creating a customer feedback survey?
Why do you want to survey customer feedback? What parts should be investigated? Making your goals clear makes your journey clear.
If you don't know what you want to do, you would not have a reliable result for your client satisfaction survey.
Second Step: Whom do you want to be interviewed in a client satisfaction survey?
It seems a simple question with a simple answer: the customer!
But sometimes it is not that simple. It matters that you survey the customer or the consumer.
Whom should you interview in a client satisfaction survey for a car factory? The driver of the company or its CEO?
Or in B2B markets, imagine you've bought life insurance for your employees in your company, now who should be interviewed? You or your employees?
This list can go on and on, especially when there are intermediaries in our buying journey. So, this is an essential factor to be considered. To ensure your customer satisfaction survey's reliability, you need to approach your final consumer and intermediaries.
Third Step: What should you ask in a customer satisfaction survey?
There are some common customer satisfaction survey questions that everyone uses in his template, but you have to pay attention to the items' quality.
As we mentioned earlier, the correctly written customer satisfaction questions will help you get better customer feedback and end brand loyalty.
To make sure your online survey questions are well done, you can use these questions:
The central part of a business is its products or service. To get your customers' feedback, it's crucial to know their opinions about your products and services. By measuring their feedback, you can improve your services and products to serve your customers better and provide better solutions for their needs. Some relevant questions in this part would be:
1. Overall, how satisfied are you with your purchase?
2. If you were the CEO of our company, what would you change or improve?
3. How often do you make use of these products or services?
4. What was your main reason for buying from us?
5. How do you evaluate the overall quality of this product?
6. How was the pricing, in your opinion?
7. Did you find the product you are looking for quickly?
8.And how likely are you to buy another product from us?
Survey some personal questions
As we mentioned earlier, it is essential to know whom you are interviewing. By asking demographic questions, you will segment your customers and make a better choice for related improvements. Pay attention to the point that you should not make your customers uncomfortable with your personal questions. So give the option to your customers not to answer the question if they don't want to. Some of the customer satisfaction survey examples are as followed:
1. How old are you?
2. If applicable, what is your education?
3. Where do you live?
4. What is your marital status?
5. Do you have children?
6. What is your employment status?
7. What is your gender?
Make a scalable satisfaction survey template.
You may want to know your customer's feedback about the details of a marketing campaign or an offer. In this case, you cannot ask them for a one-word answer. So, it would be better to make a scalable satisfaction survey template to measure the quantity of that detail.
1. Make a questionnaire with 1 to 5 scale measuring. One is very good, and five is very bad.
2. Make a descriptive questionnaire in which you range from very good to awful choices.
3. Make an emoji questionnaire to put loved, neutral or sad images to get better clients' feedback.
Survey for the experience you left for your customer
Customer experience is the future of marketing. If your customer has a good experience buying a product from your company, he will come back with another customer. So it is necessary to ask about his experience with your brand. In his experience, your communications, your staff, and your support team are involved. To ensure a good impression on your customers, you can ask these questions:
1. After calling / correspondence/e-mail, does your problem resolved?
2. How fast was our support specialist?
3. In general, how satisfied are you with the after-sales support service you received?
4. In what way have you received our customer support the last time?
5. How was the attitude of the sales team with you?
6. How successful was our specialist in answering your question?
7. Did you like the atmosphere of the shop?
8. How were the clothes of the staff?
Survey with the open-text feature
Your customer should feel comfortable expressing his feelings and opinion about your brand. Open-text questions are an excellent way to ask them to explain their needs and ideas. There is some common question of a CSAT survey:
1. In your opinion, how can we improve the quality of our service or after-sale support service?
2. How can we improve the purchasing process?
3. How can we improve our personnel's relationship with customers?
4. What should we do to make our website better?
5. Why did you choose to buy from our company/site?
6. Please feel free to leave any comments or feedback here.
Survey for more communication
Now that your customers gave you their feedback, it is time to get their permission for further communications and ask them if they are willing to answer another survey when the changes and improvements were implemented. To do this, you can ask these questions:
1. Do you like to be aware of the future progress of the brand?
2. Are you willing to answer more surveys again?
3. Can we talk back also for other feedback from you?
Fourth step: What should you measure in a customer satisfaction survey?
To be more accurate, you need to know what exactly you should ask and measure. There is a structured table where we put what you need to measure in a B2B customer satisfaction survey questionnaire.
Question Type

B2B customer satisfaction survey questions

Last Purchase
Quality
Guaranty or warranty
Shape and design
Packaging
Life span
Usage and functions
On-time delivery
Speed of delivery
Value for money
Satisfaction with the Support Team
After-sales service
Kindness of staff
Staff assistance
Cleanness of personnel
Expertise of staff
Settlement of claims
The Brand and Rivals
Brands website and social media
Brands reputation
Voice of brand
The brands biggest rivals
Brands prices compare to rivals
Understanding customers' needs and problems
Fifth step: What are the ways to survey customer satisfaction?
To run the CSAT survey and get your clients' feedback on your brand, you can use some old-fashioned and brand new ways.
The first option you have is to write some questions on a piece of paper and ask your customers to check the items immediately. In this method, you will see that many customers may answer unwillingly or poorly to the questions. They cannot complete the questionnaire efficiently and at a time that suits them.
The second way is less old-fashioned. You can call your customers and ask them some questions. In this way, you have more control over customers, but you can request fewer questions. Plus, some customers may not answer the phone or have not the time to dedicate.
The third way is to get face to face interview. This way is an excellent method to communicate with your customers. You can ask more questions if they have time. You can probably be more sure of their honest answers, but what would you do if they were far from your office? You should pay more money to access them and don't forget to set a meeting to ensure they are present.
The fourth and the last way is the most brand new one. It has a low cost with the most responsiveness. Customers have more time to complete the customer satisfaction survey. It is easy to assemble and to make the template. You can see and analyze the results quickly. And you can ask many types of questions to attract customer's attention.
How to Analyze and Present a Customer Satisfaction Survey Data?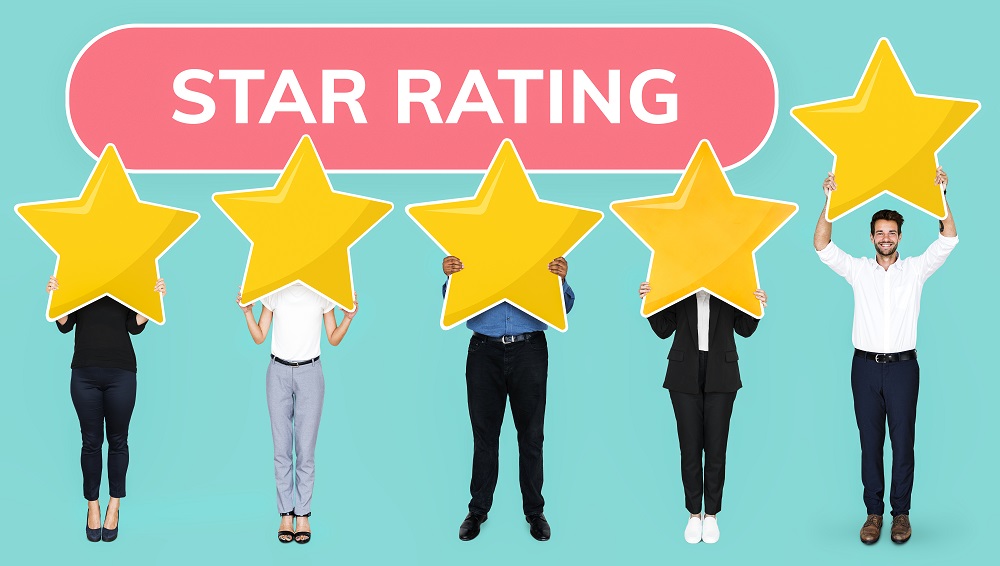 Your customers made their contributions with you and gave you their feedbacks. Now it is time to analyze and present your customer satisfaction survey.
Remember to choose an online survey platform that gives you a complete report of your survey. For example, in Porsline, you can see the full information on your customer's contribution. From the network, they answered the survey to the devices did they use or the response rate.
Other information will be in your access in charts, diagrams, and tables, making your work easy to present the customer satisfaction survey.
To analyze the results, you can use simple analytical methods such as batch analysis, correlation analysis, and trend analysis.
Remember your goals, track your pain points, identify the root cause of the problems, and provide solutions to solve them.
You should take the time and analyze your report carefully. Of course, Porsline made it easy to present the customer feedback data, but you need an efficient result to make the right decisions.