How to develop customer experience strategy better than competitors? (A complete guide with examples)
Reading Time: 21 minutes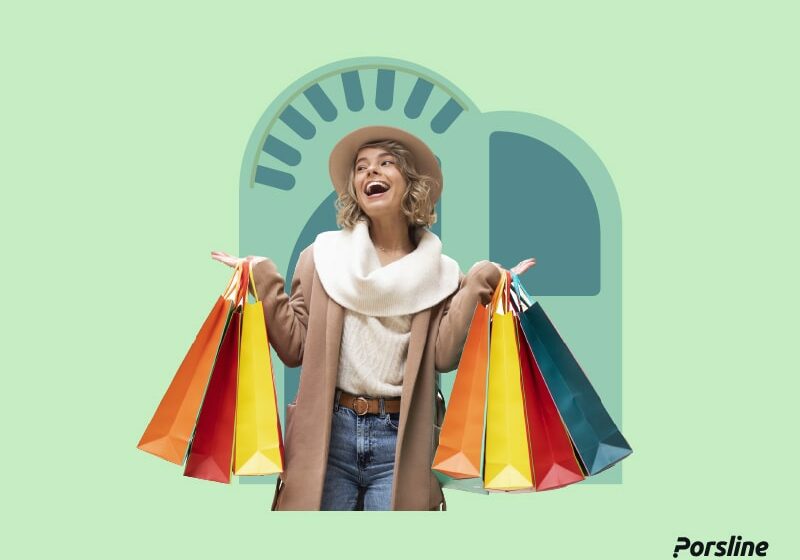 In a research project conducted in 1920, small and large companies were asked about their priorities for the next five years. It is interesting to know that customer experience, product and pricing were the top priorities for companies for the next five years, with 45.9% for customer experience, 33.6% for product and 20.5% for pricing.
Customer experience is one of the most important concerns of companies. But examining customer experience and planning to improve it require a strategy. Customer experience strategy has been introduced as one of the needs of companies in recent years.
If you are a business owner and you think that customer experience is one of the most important priorities of your business, please keep reading. In this post, we are going to talk about customer experience strategy, its definitions and examples, how to design it, and the advantages of formulating a good customer experience strategy.
What is customer experience strategy?
To understand a certain topic, it is important to know what it is. And to know what customer experience strategy is, we must first know that customer experience refers to a set of customer interactions with the business before and after the purchase of the product or service. This is while customer experience strategy refers to a set of programs that aim to create a good experience for the customers before and after buying a product or a service.
In fact, in our customer experience strategy we study both the programs that can improve the customer experience and those that can create problems for a good customer experience. The result of these studies is the customer experience strategy that tells the business what to do and what not to do.
The phrase "customer experience strategy" consists of three words: customer, experience and strategy. First of all, it is good to take an overview of the three words that make up the phrase "customer experience strategy".
We have previously talked about customers and their importance for businesses. The customer is everything for the business because the life cycle of business companies cannot go on if there is no customer.
The combination of the words experience and customer makes up the phrase customer experience, to which businesses have been paying special attention to for several years.
But the strategy in the simplest terms is defining what to do and what not to do. Knowing what business company should or shouldn't do about customer experience can determine business strategy to formulate customer experience programs.
How to design a better customer experience strategy?
A successful customer experience strategy begins with a careful study of customers' needs and desires. The ability of employees to meet the needs of customers as best as possible is also very important.
Designing great customer experiences has become easier than ever with the emergence of analytics systems. In this way, businesses can more easily predict in advance which products or services can create a good customer experience and which products or services will create a bad customer experience.
Almost all large and successful companies in the digital world know how important customer satisfaction and creating a good customer experience are. There are many examples of companies that pay much attention to customer experience.
An example that most of you have probably encountered is online taxi services. The traditional business of phone taxi and car rental agencies paid less attention to a good customer experience. This led them to lose their customers to other digital competitors.
If we go a few years back, we must remember that car rental agencies were probably an important part of the business related to transportation in the cities. But today, few people think about calling them and ordering a taxi. The existence of internet taxi agencies that focus on the needs of customers were able to overtake their traditional competitors, whom people trusted for years. But since these companies did not pay attention to the customers' needs, they easily lost people's trust.
Therefore, in order to design a good customer experience strategy, you must pay attention to the customers and their needs. Aligning business processes to better meet customer needs is the best start to designing an appropriate customer experience strategy.
Steps to designing a customer experience strategy
There are various ways to design a customer experience strategy. In this post, we aim to introduce one of the most comprehensive methods of designing a customer experience strategy. This method is a combination of existing methods that takes into account the advantages of all methods.
This method consists of ten steps, which we will examine below. These are steps that extend from discovery to improving customer experience strategy to help build an appropriate strategy to achieve a good customer experience.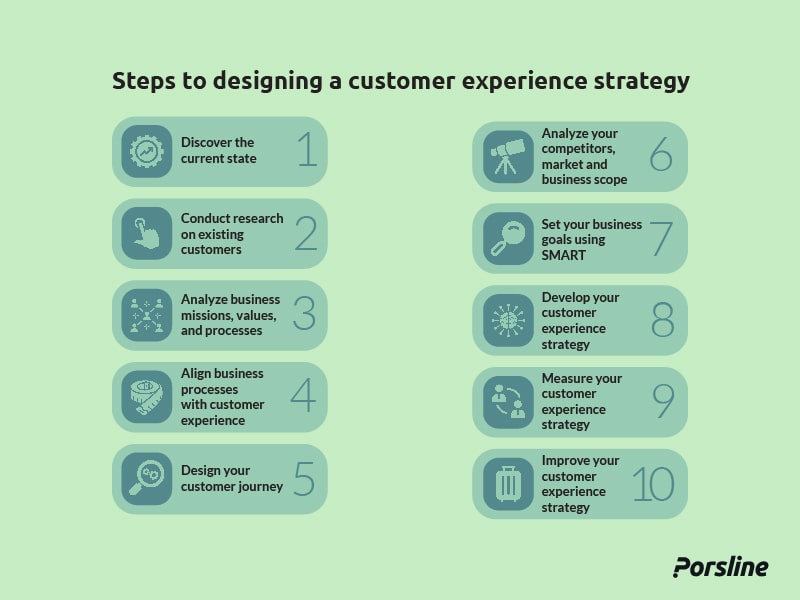 1. Discover the current state
Before formulating a customer experience strategy, you need to discover the current state of your business's customer experience. Is the current state of your business's customer experience appropriate? Is there a clear vision for improving customer experience in the future?
To do this better, you can follow the operational instructions for each step of the instructions mentioned. It is appropriate for the discovery stage to interview some key people of your business. The results of these interviews can be a good entry for designing a suitable customer experience strategy for your business. People who play a significant role in improving customer experience include:
Chief Marketing Officer (CMO)
Chief Sales Officer (CSO)
Chief Information Officer (CIO)
Chief Financial Officer (CFO)
Chief Executive Officer (CEO)
2. Conduct research on existing customers
The next step is to carefully study existing customers. Qualitative and quantitative research can help businesses in this regard. This research includes in-depth interviews about customers, business employees, stakeholders, surveys conducted, web analytics data, and user studies.
Gathering this information will help you gain insight that will help you develop your strategy to answer the question, "Where are we now?"
The purpose of this research is to identify where business value, customer value and opportunity align with each other. Data analysis can help you understand the business, customers, and the market in which you compete, so you can develop an appropriate customer experience strategy.
3. Analyze business missions, values, and processes
Get a comprehensive view of your mission, values, and organizational processes. The goal of doing this is to rebuild your business processes to align with a successful customer experience strategy.
To understand strategic priorities of your business, ask the right questions about your current goals such as: Is the actual goal to attract new customers or to expand the revenue stream from existing customers? Is the business entering new markets or introducing new products and services to the current market?
A successful customer experience strategy fulfills brand promises. A review of recent studies on your brand image or new plans to build your brand for your business may help you determine what promises your brand is making and how it can fulfill those promises.
This topic is useful when you identify which of your promises you plan to fulfill and what method you choose to fulfill those promises.
In order to identify the aspects of the business that can best improve the customer experience, you must choose the right people, processes and systems.
One great way to do this is to create a diagram called the ecosystem map. This map identifies what the connections are between people, processes and systems to achieve the best customer experience. The ecosystem map also identifies what key assets your organization has so that you can build your customer experience strategy around.
4. Align business processes with customer experience
Gaining an overview of the business enables business executive managers to restructure goals in order to create sustainable value for customers through a customer experience strategy, identify barriers to achieving goals, and define how a customer experience strategy will achieve goals. Knowing the mission, values and processes helps you answer the main questions about your customer experience strategy. Here are some of these questions:
To what extent do internal processes support customer experiences?
In which business processes is there a gap between customer expectations and current experience?
What assets can be used to improve customer experience?
What new technologies or processes are needed or who are the new people needed to achieve the new business goals through a customer experience strategy?
The answers to these questions give a clear image of the current state of the business concerning customer experience.
5. Design your customer journey
Collecting and analyzing customer data provides an important insight for your existing customer base and your company's goals in terms of the needs, desires, the biggest weaknesses and moments of truth. Once customer data is analyzed, operators can now get a clear image or personas of your customers.
This data can identify the weaknesses (the points where the customer has difficulty interacting with the business). They can also determine how users react when faced with the reality of a business product or service.
This data can help you gradually draw various personas for your business. The customer journey of each persona can determine the direction of your business for the future.
Each customer persona has its own customer journey. Therefore, by drawing the customer journey of each persona, you can create a new customer experience, such as the current experience or that people might encounter while interacting with your business.
After drawing the customer journey of these personas, you can draw the complete and comprehensive customer journey map for your business, which is a map showing the current gaps and the desired state of customer experience in your business. It also outlines the details of the customer journey.
A customer journey map can identify all possible touch points of users and customers with your business. It can also identify business interactions with customers at different touch points and show the path customers take to create a (successful or unsuccessful) experience.
6. Analyze your competitors, market and business scope
Now that you have a good understanding of your customers, the customer journey map and their experiences in interacting with your business, it is time to carefully investigate the competitors, market, and industry.
Use internal and external sources to research competitive threats and obtain accurate market knowledge and an overview of the current competitive sight in the market environment.
Your research should include an assessment of competitors' customer growth and decline, competitors' financial performance, customer attitudes toward competitors, technology trends, and the ability to meet the needs of the competitors' customers.
This research helps you assess a fact-based result that shows the specific gaps between the current state of your business and competitors. These gaps can be considered as the key program to guide the development of the customer experience strategy.
7. Set your business goals using SMART
The next step should define your business goals. This can be done using the SMART method. This method has five steps, according to which a goal should be Specific, Measurable, Achievable, Relevant and Time-dependent.
Any goal you choose for your business must have all the five mentioned characteristics so that you can consider it a suitable goal.
These goals are the basis of customer experience strategy design. Strategic goals and objectives are created to address the various competitive threats, issues, and opportunities identified during the strategic project.
Strategic goals and objectives represent the main issues related to the business and customers, such as:
Attaining a deeper understanding of customer satisfaction
Facilitating the most meaningful customer interactions
Activating the ultimate customer experience
Increasing the effectiveness of campaigns and marketing
Creating business analytics
Improving the speed of offering the products and services to the market and agility
Setting a foundation for operational effectiveness
8. Develop your customer experience strategy
Now that you have built your customer experience vision, defined your goals, and put your SMART goals in place, it is finally time to develop a strategy that answers the next important question, "How do we achieve these goals?"
The answer to this question determines the desired situation of the business, a situation that can be reached by creating a good customer experience.
Creating the roadmap serves as a strategic document and work program that define strategies and tactics in customer experience channels, so that customer experience strategy leads to customer interaction and gives the results of this interaction.
This document identifies the gap between the current experience and the vision of the future state of the business, thus reducing the gap between the current and desired state by providing operational and executive solutions.
The roadmap should be related to the specific business goals and key performance indicators (KPIs) to measure success. This means that we need to determine which business performance indicators will affect each of the business goals in the designed roadmap.
The following steps may be appropriate to start developing a roadmap and developing the strategic customer experience document:
Explore the weaknesses and obstacles that prevent customer experience to be achieved (specified in step 4).
Define customer obligations.
Use customer interaction strategy to create a comprehensive experience strategy.
9. Measure your customer experience strategy
You need to measure the success of your customer experience strategy to understand whether it is successful or not. By measuring your customer experience strategy, you can understand where and how you can improve customer interactions.
You must create a strategy to measure success. The measurement strategy should use criteria to track data sources. In simpler terms, you need to know where the business create data, where it is stored, and how it can be accessed.
Customer loyalty index is one of the most important and widely used metrics to measure the success of customer experience.
Customer Experience Management and Improvement Solutions to Increase Customer Loyalty
The recorded data of the interaction of users with the business can be a good source for measuring the success rate of the business in terms of meeting customers' needs.
Customer effort index is another important metric in measuring the success of customer experience. This metric specifies how much effort the user must make to get the desired result. For example, to solve the problem of not sending the user's order on time, one might ask the following question: "what is the path to follow and how the complaint should be made and followed up?". The effort that the user makes to have a successful interaction with the business is called the customer effort index.
Business value can be tracked using customer experience (CX) criteria and key performance indicators (KPI). These indicators are typically divided into three categories:
Descriptive criteria
Perceptual criteria
Outcome-based criteria
Descriptive criteria answer questions like when, where, and how your business interacts with customers.
Perceptual criteria try to depict the customer's perception of how he/she interacts with your business. Reviews, ratings, or scoring criteria for products or services fall into this category.
Outcomes are criteria showing actions taken by customers before or after they interact with your business. Items such as statements urging the user to take action on your website, such as online sales, advertisements, or filling out forms by customers are examples of outcome-based criteria.
10. Improve your customer experience strategy
Customer experience strategy is not a one-time project. Building a customer experience strategy is an ongoing process. With the measurement strategy, managers should reevaluate customer experience strategy and regularly look for ways to manage and improve customer experience.
Experience strategy can be affected by many factors, including macroeconomic trends, new market regulations, changes in customer behavior, new competition, and new technology. Monitoring these factors is as important as focusing on performance.
Now that you know how to develop a successful customer experience strategy, you can join the leaders who are changing their businesses to adapt with the customer experience economy and gain a competitive advantage.
Successful examples of customer experience strategy
There are many examples of successful experiences in designing a customer experience strategy. But to better understand customer experience strategy and its success methods, in this post, we have studied the points that businesses have been able to use to create successful customer experience strategies. Furthermore, by reading the post Customer Experience Management Solutions to Increase Customer Loyalty, you can get good information about the success factors of customer experience strategy.
1. Happy employees make customers happy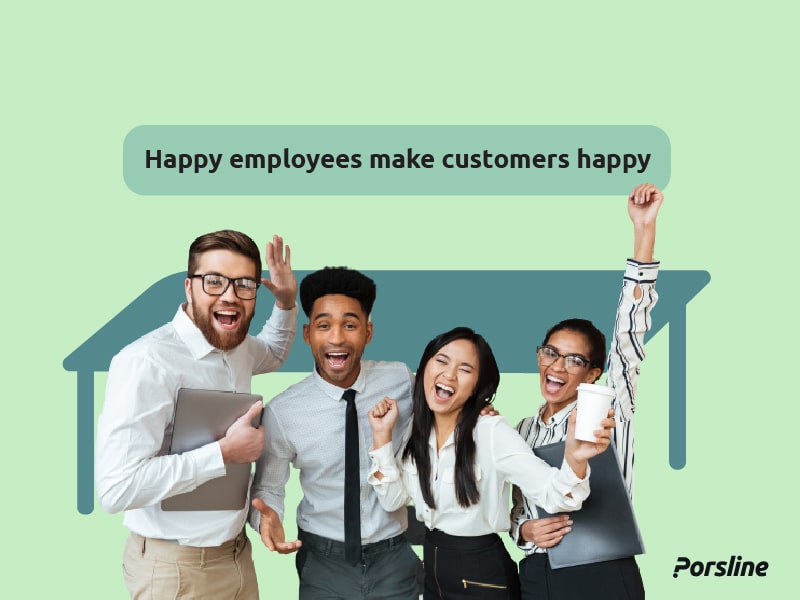 "The experience of the internal customer determines the experience of the outside customer." Says Shep Hyken.
When companies strive to keep their employees satisfied and make them feel that they are an important part of the company, they take a step to providing excellent customer services. In fact, if businesses consider their employees as their first customers and try to satisfy them, it is probably they will have satisfied customers as well.
The American airline company Southwest Airlines is worldwide famous for maintaining a great work culture to make its employees happy and comfortable. This company has created a professional and healthy environment that includes teamwork, work values and appropriate motivations for the employees.
This particular point made the experiences of this company's customers attractive and good according to the customers themselves. The internal culture of the company also has led to an improvement in the external culture of the company.
But what did this airline company do so that the influence of the internal culture on the customer experience created attractive and lovely moments? A small example of how the company employees deal with passengers might be able to shed the light on this topic.
When an elderly was delayed for 12 minutes due to heavy traffic on his last trip to see his grandchild, the pilot asked the passengers and the flight crew to delay the take-off saying the old man was going to see his grandchild for the last time.
Yes, the pilot has learned in the company that respecting the customer and the appropriate understanding of the situation in the right time can have positive effects on the customer's travel experience. This flight was one of the loveliest flights to the passengers, and they remember this experience well.
The important and attractive points in this example:
With every step you take towards your employees, they take at least one step towards your company.
Reward employees from time to time financially and morally to appreciate their good work.
Never forget to train your employees. Raising the scientific and practical level of the employees is an integral part of business.
2. Collect customer service feedback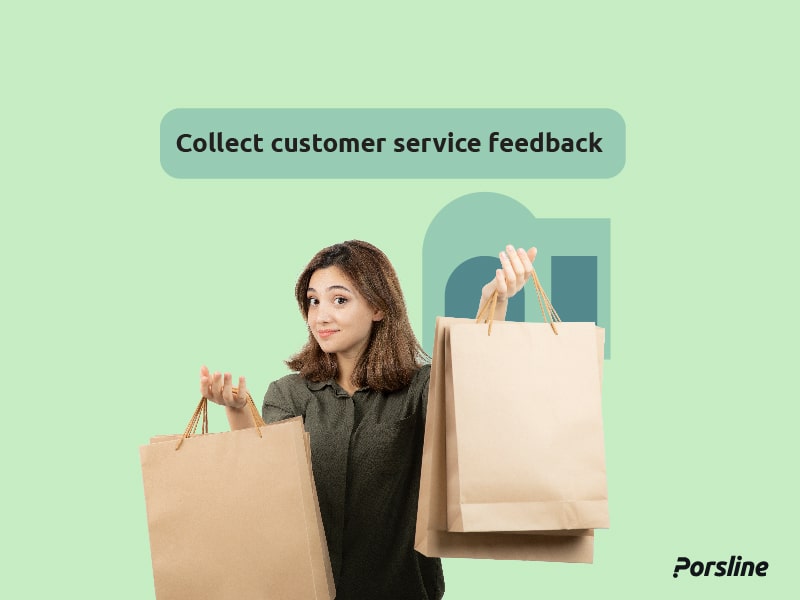 Excellent customer service is the best way to achieve customer loyalty. Teaching interaction skills such as active listening and using positive words should be an integral part of the customer experience framework.
Listening helps to understand the needs and interests of the customers. With this method, you can adapt your services with the expectations of the customers. This applies to food and beverage brands. These brands need to understand their target audience for finding a way to be distinguished from the competitors.
SuperValu stores follow an innovative approach for collecting customer feedback to ensure that customers can always expect the incredible factor of astonishment.
But what did these stores do?
This store communicated with 12 customers twice a month in order to know the real value of its products. It provided them with surveys about the product price and quality, service level and advertising campaigns.
Customer feedback was carefully recorded and used to further evaluate store managers in order to improve the planning process. These surveys helped to create a better experience for future customers or a better shopping experience for current customers of the store.
The important and attractive points in this example:
You should provide customers with multiple channels for collecting their feedback, analyzing data, and using it to build stronger products and services.
You should learn how to conduct regular surveys (online or offline) to collect customer feedback and transfer it to the customer experience model.
When you take customer feedback into consideration, they feel that they are part of your brand and give you goals to build great customer experience examples for other customers as well.
Try to reward your customers for their cooperation with your business.
3. Use live video interaction for better customer interaction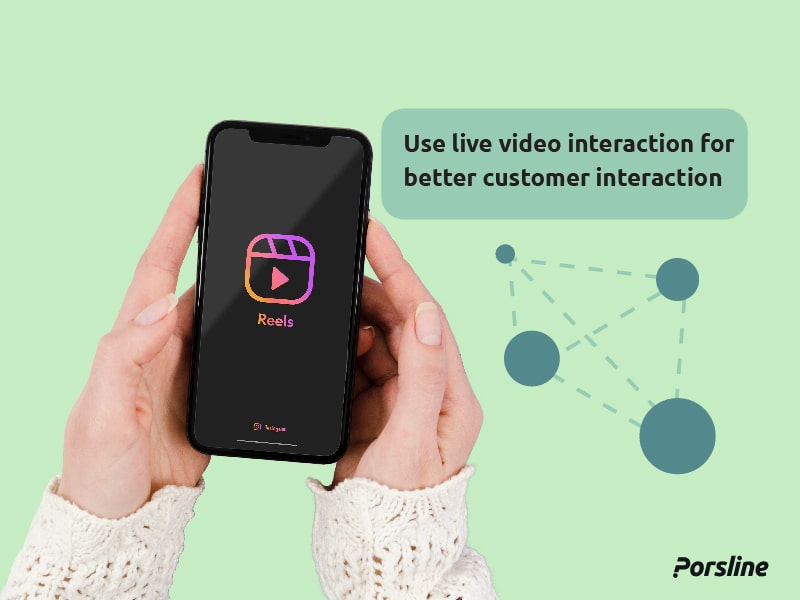 Going live is an important channel that enables businesses to communicate with their customers at the appropriate time. 63% of customers are more likely to return to a business that uses live broadcasts.
Live is one of the best ways to improve the customer experience level. As live broadcast helps to provide an immediate face-to-face response to customers, which is one of their expectations from businesses.
In this context, we refer to Tactical Patriot Company. This company employs live technology using an SMS service that allows customers to initiate a direct live connection with their support specialist with just a simple text message.
For faster communication, they provided a phone number, which is used to make all registration steps and track the orders. In this way, other traditional methods such as registering a support order and text response are eliminated, and users can easily communicate directly with your support specialist and discuss their problems with him/her.
The important and attractive points in this example:
Support your customers with live video, which increases their satisfaction and positive experience with your business.
Offer effective solutions to customers using live interaction tools such as video chat. This will help create a positive experience for customers.
The needed tools to design a customer experience strategy
According to what we have mentioned in the steps of designing customer experience strategy, it seems that interviewing and sending surveys to business employees and customers are the most important solutions you can adopt. Various tools can be used for interviews and surveys.
In the past and even nowadays, paper survey is one of the most used tools to accurately identify customers and their needs. Furthermore, because the business needs to collect data from influential employees and senior managers, companies need this tool more than ever.
However, with the advancement of digital technology and the transformation of many processes to become online, you can use online tools such as Porsline to prepare and send surveys.
On Porsline, you can easily put survey questions and prepare your online survey. The advantage of online surveys is that anyone can answer them anywhere and anytime.
Since you need to interview senior managers to design a customer experience strategy, and since senior business managers do not have much time for coordination and interviews, it is useful to use Porsline survey builder in this field.
In this way, you can put the questions related to the interview with their explanations on Porsline, and finally, by sending a survey link, you can ask the senior managers to answer your questions whenever they want.
Conclusion
There is no business without a strategy. Every business has a strategy, good or bad. But developing a customer experience strategy requires an accurate knowledge of your audience, market, competitors, and business. The companies that pay attention to customers and develop a customer experience strategy based on customer needs are usually more successful than the companies that focus only on their own business.
You do not need complicated work to design a customer experience strategy. It is enough to take small but continuous steps, and after collecting data, you need to specify your goals. By precisely specifying your business goals and aligning them with customer needs, you can start developing your customer experience strategy.
But this is not the end. You have to use the developed strategy. It must be tested in both practice and reality. Measure the indicators related to your goals regularly, improve your strategy if needed and finally use the improved strategy.
This cycle will help you learn more about your business. In each round, you learn more about what customers need and whether you have been able to meet their needs or not.
Finally, do not forget that you can use Porsline for many steps of designing and developing a customer experience strategy, such as collecting data from customers, business employees, and customer satisfaction survey, etc.