A Full Guide to Evaluating and Improving Customer Experience Management + some Recommended Books
Reading Time: 23 minutes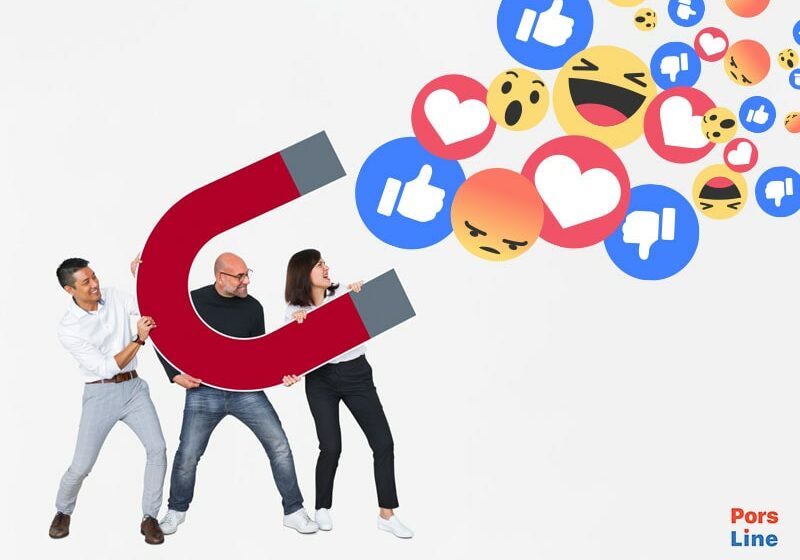 Customer experience management comes on top of business priorities in the next five years. Companies that focus on customer experience reduce defection rates and thus increase their revenue and make more profits.
Of course, it should be noted that many managers confuse the concept of customer experience with customer satisfaction. So here you should know that customer satisfaction with the brand is a goal while customer experience affects customers' feelings and emotions and targets the entire customer journey with the company.
Customer experience affects all areas of your business. Based on a survey of 1920 senior executives, Superoffice shows that their top priority for the next five years is to focus on customer experience management and improvement.
In this post, we will examine the dimensions of customer experience and their impact on business. We will also provide you with tools that can help you measure and improve your customer experience.
To measure your business customer experience, register now at Porsline and use its free Customer Experience Management Surveys.
What is customer experience?
Customer Experience is everything related to a business that affects a customer's perception and feelings about it.
In his book, «Make Your Customers Dance», Marc A. Majers illustrates the proper performance of customer experience as a well-run wedding reception. He says that if the DJ can play the right songs for the guests and pick the right music, he/she can make them dance.
According to him, making your customers happy and creating a customer experience tailored to their needs will keep them coming back to you again and again. And the basis of business is that you can make your customers dance with joy.
"Customer experience is (a) the sum of all the interactions that a customer has with a company over the course of the relationship lifecycle and (b) the customer's feelings, emotions, and perceptions of the brand over the course of those interactions," says Annette Franz, founder, and CEO of CX Journey Inc.
In customer experience management, it doesn't matter if the interaction is small or large, and it doesn't even matter if the interaction leads to a purchase or not, what really matters is how the business interacts with customers.
Every time a customer calls your call center, sees your ad online, or even makes a purchase from you, there is an interaction between him/her and your brand. This interaction can either establish or end his/her relationship with you.
"Customer experience is how a customer feels about the sum of their interactions with a business. It includes all the different ways that customers interact with a company throughout the customer journey. These steps range from marketing activities to customer experience, product or service quality, and after-sales service" says Dave Dyson, Sr. Customer Service Evangelist, Zendesk.
Why is customer experience important?
No business survives without customers. Customers who are happy with your product/service are more likely to be loyal to you and re-use your services and products, which will consequently increase your revenue.
Therefore, managing and creating a good customer experience to improve customer loyalty is one of the basic principles in growing any business. A good customer experience turns first-time customers into returning customers, increases loyalty, and encourages brand promotion because customers are the best source for increasing brand awareness.
Do not forget that nowadays it is the customers who have the power, not the sellers!
Harvard Business Review also found that customers with a good business experience were 140 percent more likely to buy from you than those with a bad brand experience.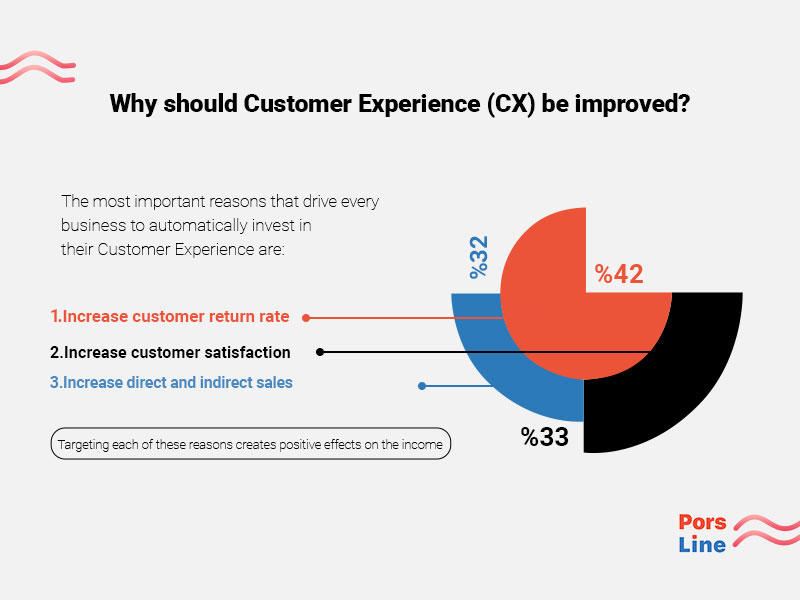 How can we improve customer experience?
1. Observe: Understand the interaction through the customer's eyes
Instead of focusing on certain points of customer interaction with the company, consider the entire customer journey. Most companies focus on customer interaction with certain units, such as support and after-sales service, while they do not take into account all customer interactions from the first to the last interaction, known as the Customer Journey Map.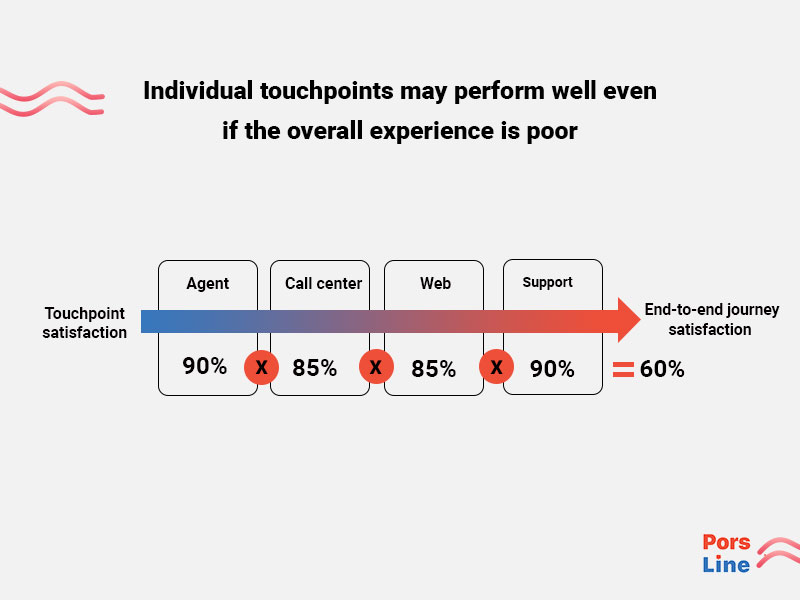 Quantify what matters to the customer. Do you know which parameters play the most important role in satisfying your customers? Do these parameters play the same role across all customer segments? You can collect data regularly and periodically to determine different fragments of the customer experience using a variety of Customer Satisfaction Surveys and statistical analysis tools.
Turn the customer experience into a collective sense and common goal that is simple and understandable to all employees. Avoid using buzzwords and strategic management terminology. For instance, Walt Disney promotes this common goal with his famous saying: "We make you happy, the best entertainment for anyone, at any age, and anywhere". This simple sentence should become a common rule of conduct, especially for employees who are constantly interacting with the customer.
2. Shape: Redesign the customer experience using digital technologies.
After learning about customer behavior, you should use digital tools to remove all barriers to customer interaction with the company. Barriers can only be removed by forming agile interdisciplinary teams that can easily use software services to support key process redesigns.
3. Perform: Align the organization to deliver against tangible outcomes.
Develop metrics to receive and measure customer feedback. The key to customer satisfaction is that while measuring what has happened to them and receiving their feedback, the data collected should be used for corrective action throughout the organization.
What is really important is how those metrics are implemented and used regardless of their types.
An ideal customer experience management system focuses on the entire customer experience and links it to other components for business excellence and improvement.
Imagine having a customer experience metric at the top of the pyramid and you have to link it with other metrics in a flowchart.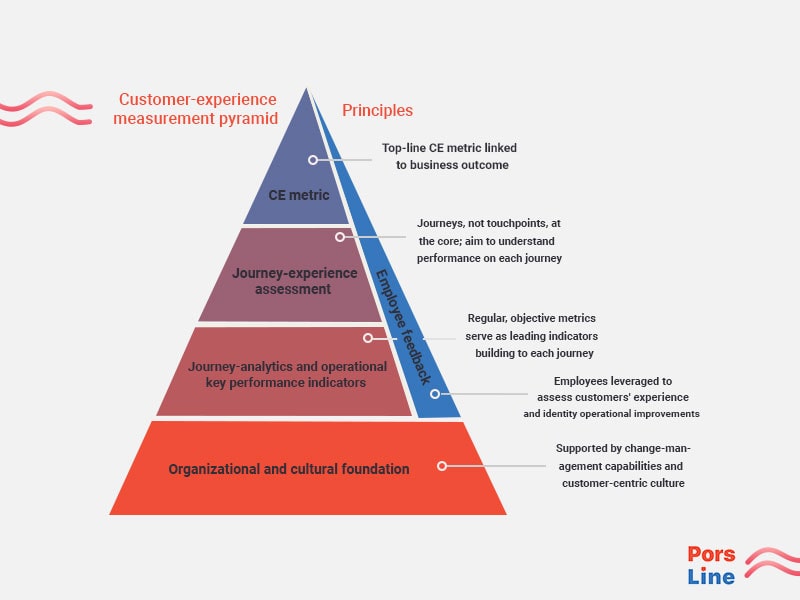 Porsline offers features such as Custom Variables and the API to help you out with this. Contact us for more information.
Empowering employees who constantly interact with the customer and giving them sufficient authority to directly make decisions play a key role in managing a successful customer experience. Many organizations have implemented a formal mechanism for obtaining employee feedback.
Satisfying the customer and providing a unique customer experience are quite challenging for all layers of any organization. However, in the world of social media, where the customer can quickly access all kinds of information, this has become an inevitable necessity that will have almost no chance of success without the desire and support of senior executives.
Customer Experience from McKinsey's point of view
McKinsey & Company is a management consulting firm founded in 1926 by University of Chicago professor James O. McKinsey. This well-known company advises on strategic management to corporations, governments, and other organizations.
McKinsey believes that companies that create a unique customer experience for their customers can differentiate themselves from their competitors and become unique.
According to McKinsey's experts, wise CEOs these days know that leading companies need to take customer experience into account in their businesses. They also know that the way the message is delivered to customers is just as important as the message itself.
If we combine customer experience with advanced analytics, customer experience managers can create a perspective on how to build customer loyalty and make customers happier. They can also increase the organization's revenue by 5 to 10 percent and reduce the costs by 15 to 25 percent in two to three years.
McKinsey provides a way to manage the customer experience in which customers can significantly participate in decision-making to generate more revenue for the company.
This reputable prestigious consulting company believes that in order to reach these percentages, it is necessary to have some patience so that the world can be well seen through the eyes of customers.
Customer experience management begins with the customer's consideration, and the organization must not be the first priority.
In the image below you can see a summary of McKinsey's strategy to improve customer experience management.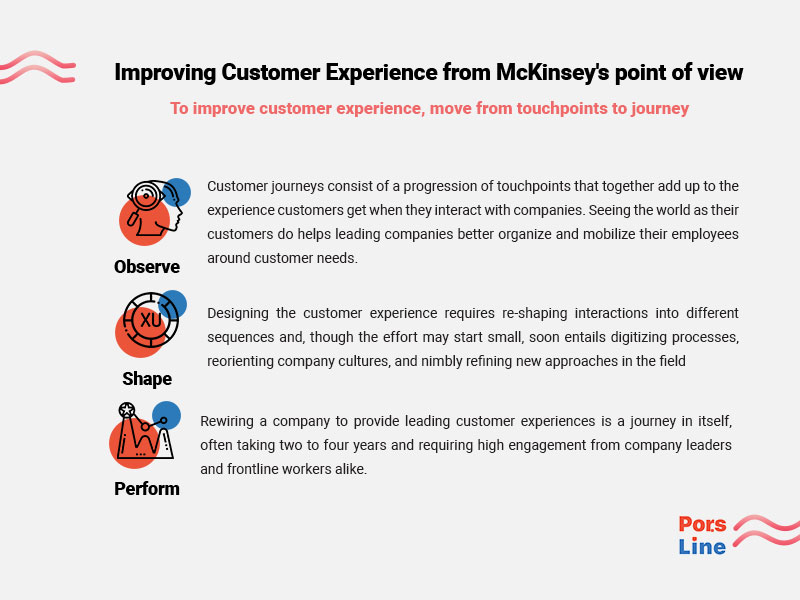 The first step in Customer Experience from McKinsey's point of view: (Observe)
Observe the world through the eyes of your customers. Three-quarters of them, research finds, expect "now" service within five minutes of making contact online. A similar share wants a simple experience, use comparison apps when they shop, and put as much trust in online reviews as in personal recommendations. Increasingly, customers expect from all players the same kind of immediacy, personalization, and convenience.
You should also identify and understand the customer's journey by paying more attention to the complete end-to-end experience customers have with your company from their perspective.
In your organization, what is more important to customers? Is it the product quality, price, or customer service performance?
To find out which of these factors affects your organization the most, you should use advanced analytics such as the Customer Experience Survey or tools such as Google Analytics. Also, the finance department in your organization can help you parse the factors driving what customers say satisfies them and also the actual customer behavior that creates economic value.
Define a clear customer-experience aspiration and common purpose. This purpose must be made clear to every employee through a simple, crisp statement of intent: a shared vision and aspiration that is authentic and consistent with a company's brand-value proposition. The most recognizable example of such a shared vision might be the Common Purpose of the Walt Disney Company: "We create happiness by providing the finest in entertainment for people of all ages, everywhere."
If you can understand the real needs of your customers, you can put your entire organization on the right path.
Use the Buyer Persona Survey Template to better understand customer needs.
The second step in Customer Experience from McKinsey's point of view: (Shape)
Redesign the business from the customer back and make the customer your first priority.
Find your weaknesses and know which part of your business you have weakness in interacting with your customers.
Apply behavioral psychology to improve interactions.
Use digital technologies all over your customers' journeys. Digitization is a great way to make your customer path easy. Research shows that 25 percent of customers will defect after just one bad experience.
Customer-experience leaders can become even better by digitizing the processes behind the most important customer journeys.
The third step in Customer Experience from McKinsey's point of view: (Perform)
As the customer experience becomes a bigger focus of the corporate strategy, more and more CEOs will face the decision to commit their organizations to a broad customer experience transformation.
Creating appropriate metrics, empowering frontline employees to act upon customer concerns, and implementing a customer-centric management structure are among the challenges of any organization in carrying out operations based on customer experience.
It is necessary to encourage your employees throughout training sessions to treat customers properly, because employees are your frontline.
With the help of customer experience measuring tools, collect and analyze customer feedback data in specific intervals.
Porsline provides you with a free Customer Experience Survey Template to help have a clearer path in receiving customers' feedback.
Customer Experience From Harvard Business point of view
Harvard Business Review is a general management magazine published by Harvard Business Publishing, a wholly owned subsidiary of Harvard University. HBR is published six times a year and is headquartered in Brighton.
This prestigious magazine demonstrates that customer experience overshadows all departments of the company from customer care to advertising, packaging, products, service, simplicity, ease of use, and other departments that must be involved in creating a better customer experience.
Many HBR experts believe that many companies do not know the true meaning of the customer experience and that some of them collect data but do not use it correctly.
Harvard magazine goes on to say that in the Bain & Company survey, customers of 362 companies were asked to share their experiences with these companies.
The results showed that only 8% of customers described their experience as excellent, while 80% of companies believed that the experience they provided to customers was excellent!!
These statistics show that companies have to think more and more about implementing customer experience.
Harvard Business believes that if companies want to know how to satisfy customers and create productive experiences for them, they must rebuild customer satisfaction to get more detailed experiences. This is because many customer experiences are not a direct result of the brand's message or the organization's current offers.
In order to be able to convey such an experience to the customer, the organization must pay attention to its most detailed behavior and be careful in all its movements to transfer the appropriate experience. Also, senior managers must be careful to balance all of these movements.
According to Harvard Magazine, customer experience is the internal and mental response of customers to any direct or indirect interaction with the company.
Direct interaction with the company is achieved through purchase, consumption, and service. Whereas indirect interaction is usually unplanned and refers to any unintended communication between customers and the company. For example, the criticisms or suggestions customers may hear from others about the brand, advertisements, and news reports are considered types of indirect interaction.
You need to keep in mind that providing a customer-centric experience does not mean offering different possibilities. Maybe even a small label or good packaging can provide a good customer experience.
According to Harvard Business Review, many managers and CEOs do not directly underestimate the importance of the customer experience, and some even use different tools, data, and analytics. However, they do not care enough about the results of these data. This prestigious scientific journal believes that managers do this for three reasons:
They have already paid a lot for CRM services
Managers who have spent a lot of money on customer relationship management or CRM systems do not spend money on customer experience management or CEM.
CRM systems help you identify all the interactions that each customer has done with your company. For instance, how many times has the customer bought from you? what path did he/she follow? which products did he/she consume? and what was the history of his/her purchases?.
Whereas, CEM emphasizes the immediate response of the customer. Given the different costs and timing of these two concepts, many managers prefer not to properly approach and invest in CEM.
CRM Vs. CEM
What?
When?
How monitored?
Who uses the information?
Relevance to Future Performance
CEM

Captures and distributes what a customer thinks about  a company

At points of customer interaction:

"touch points"

Surveys, targeted studies, observational studies, "voice of customer" research

Business or functional leaders, in order to create fulfillable expectations and better experiences with products and services

Leading: locate places to add offerings in the gaps between expectations and experience

CRM

Captures and distributes what a company knows about  a customer

After there is a record of a customer interaction

Point-of-sales data, market research, web site, click rate, automated tracking of sales

Customer-facing groups such as sales, marketing field service, and customer service, in order to drive more efficient and effective execution

Lagging: Drives cross selling by bundling products in demand with ones that are not
They do not correctly know the needs of customers
If a manager, perhaps in the middle of an organization's business process, realizes that he/she has not taken customers' needs into consideration, they will find it difficult to change all processes based on the customer experience. In fact, managers who have learned to improve organizational performance because of their customers' problems are more concerned with the customer experience. In contrast, managers, who are more concerned with finance, engineering, or operational matters, consider customer experience management to be part of the sales or marketing department.
They are afraid of disclosing data
Before any data is extracted, everyone thinks they have had a good customer experience. However, when the data is at your disposal, you have to see how well you have been able to listen to your customers. How did you strike a balance between conflicting priorities? And have you been able to understand your customers' journey before you can tell them what they need to experience?
Some managers, unable to bridge the gap between expectations and what is actually happening, prefer to take things differently.
However, statistical data has evolved to the point where it has become easy to evaluate important sections of an organization, including accounting, finance, different segments of customers, and other areas in terms of customer experience.
Here you can combine the data generated by your CRM system with the analytics from online surveys and customer experience surveys. And it is vital that you do not ignore the results or deny any changes in the data.
What is the difference between Customer Experience and Customer Satisfaction?
Many managers consider the concepts of customer satisfaction and customer experience to be identical, although the two terms are semantically and practically different. In fact, customer satisfaction is one of the components of customer experience. Customer experience measures the impact of your business on the customer throughout his/her journey with your brand.
Many elements fall under the concept of Customer Experience. These elements can be summarized as follows:
Customers' interaction with the business.
Customers' findings from your business.
How easy it is for customers to access your services.
The customer path to creating interaction and commitment with your business.
How much your employees care about customers.
How to deal with customers after making a purchase.
How much you encourage and influence customers to bring them back to your business again.
Each of these two concepts has its own components that must be measured. In this section you can see the main components of each:
The main components of Customer Experience

 

The main components of Customer Satisfaction

 

Product

How suitable your product and its features are for the customer.

Product quality

Does your product meet all the customer needs that he/she has been looking for?

How well is the product designed and built? Is there an after-sale guarantee?

Communication

How well is your brand image imprinted in the customer's mind through advertising, brand promotion, marketing, or daily interactions?

Customer Service

How many services do customers receive from your employees?

How much explanation and clarification are they provided with?

Communication channels

How much your business is available through different communication channels.

Feedback

Does your business receive feedback from customers?

Operations

How satisfied each customer can be with your business?

How simple are the operations in your company?

——–

Price

What level of service do you provide that is reasonable to the customer in terms of price?

——–
Some solutions to improve and enrich customer experience
If you wish to provide your customers with a good experience, tell them that you care about them and that your business is unique and therefore has unique customers. You can use the following strategies to improve your customer experience.
Listening to your customers must be your first priority.
Use the Customer Satisfaction Survey to expand your understanding of customers.
Use Porsline to consistently collect and analyze feedback data from customers.
Solve the little problems and challenges of your customers.
Create a separate plan for managing your customer experience.
Enhance and provide better customer service.
Train employees who interact with customers and evaluate their status periodically, also you can measure the satisfaction and loyalty among employees by using the Pulse Survey.
Employ artificial intelligence (AI) to better understand your customers' problems and challenges.
Things you should NEVER do:
Do not make your customers wait for a long time.
Do not hire employees who do not understand customers' needs.
Do not leave customer questions unanswered but answer them all.
Do not automate all your processes because you will lose the human sense behind your business.
Try to customize your services for each customer.
Do not hire employees who are rude, arrogant, or quick to anger.
Customer experience measurement tools
You can use different tools to measure customer experience. Each of these tools has different functions and meets different needs.
Porsline
Porsline is a platform for creating online questionnaires, surveys, and forms. On Porsline, you can easily create all kinds of customer experience surveys with a few drag & drop moves. With the help of various features offered by Porsline, you can manage your customers' experience in the best way depending on reliable data.
Use Customer Satisfaction Survey, Net Promoter Score (NPS) survey, or any other customer experience assessment surveys to make effective real-time decisions and succeed in customer experience measurement with the help of graphs and analytic charts.
Hotjar
With the help of artificial intelligence provided by Hotjar, you can see online which sections of your website have better communication with your customers. Sections with more hotspots provide a better customer experience, so you can focus more on these sections or make other sections as desirable.
Help Scout
Help Scout is an on-site customer response platform. Your organization's customer success team can deliver a great customer experience with the help of the unique features of this platform, conveying and tagging messages to different departments.
Satmetrix
Satmetrix provides you with a report on the overall status of your customer experience. The platform performs this action by comparing direct feedback, indirect feedback, and performance metrics and gives you a comprehensive report. This tool gives you an overview of the customer experience from the customers' point of view and tells you how this experience affects your business.
Khoros
With the help of this platform, you can manage your customer experience in cyberspace. So you can communicate with your customers on any platform they are comfortable with. Customization and creating workflow are other tools of this platform, and these capabilities will save time for your customer service team.
HubSpot
HubSpot is a customer service management platform that provides special features to manage and improve customer experience. For example, through this platform, you can manage your tickets and record the needs of customers and resend messages to them if needed. You can also manage your support history through this platform.
Types of customer experience surveys
You probably know that all the calls, emails, or communications that customers make to you can be considered some kind of customer feedback. The important point in collecting feedback from customers is to be able to measure it, then analyze it, and finally measure the progress or regression in its metrics by making various changes. Here are some types of customer experience surveys:
The Customer Satisfaction Survey
The Customer Satisfaction Survey (CSAT) measures customer satisfaction with a product or service. Measuring customer satisfaction is critical to understanding the deep problems in the product and service phases.
The Net Promoter Score Survey
The Net Promoter Score Survey (NPS) identifies how willing your customers are to introduce and recommend your product or service to other potential customers. The Net Promoter Score indicates the growth rate of an organization in the future.
The Customer Effort Score Survey
The Customer Effort Index (CES) survey identifies the amount of effort a customer must go through to solve a problem through support.
The Point of Conversion Survey
The Point of Conversion Survey is sent when the customer reaches a certain point in the purchase process or completes the purchase process. In this way, the customer's buying experience can be measured and evaluated.
The Retention Survey
The Retention Survey identifies the reason why customers are declining, not using a certain service, or returning the product. This survey is used when customers cancel the purchase or return the product.
The Time to Resolution Survey
The Time to Resolution Survey shows how long each customer has to wait for their problem to be resolved. This survey can be used on a daily basis, by using the automatic sending of the survey on Porsline, or after each phone call, by sending an automatic text message in which the customer is asked to specify his/her feedback on the waiting time.
Introducing several books in the field of customer experience management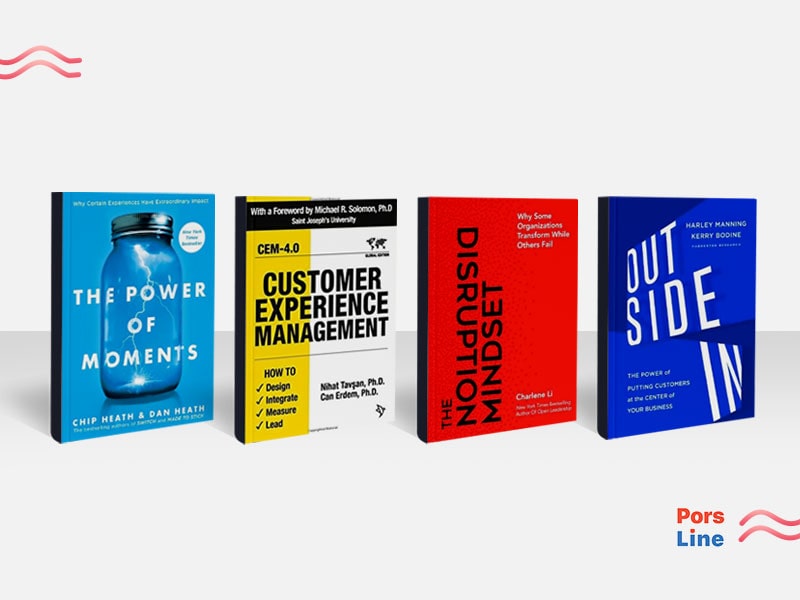 If you wish to learn about customer experience and read more about it, you can benefit from these books. You can get them from Amazon.
The Disruption Mindset, by Charlene Li.
Customer Experience Management, by Nihat Tavsan and Can Erdem.
Outside In: The Power of Putting Customers at the Center of Your Business, by Harley Manning, Josh Bernoff, and Kerry Bodine.
The Power of Moments, by Chip Heath and Dan Heath.
Conclusion
If you are an organization manager who pays little attention to customer experience or doesn't measure and manage the customer experience properly, then do not forget that having a customer experience strategy and measuring it correctly is one of the first and most important things that every manager must prioritize because it ensures the survival and growth of the business.
In this post, we have talked about the ins and outs of customer experience and examined its management from the point of view of two trusted sources, McKinsey and Harvard.
You can use Porsline to create a variety of customer experience surveys, and use reliable educational videos to help you get to the best data in your organization.