The ultimate guide to Customer Satisfaction measurement tools and importance
Reading Time: 28 minutes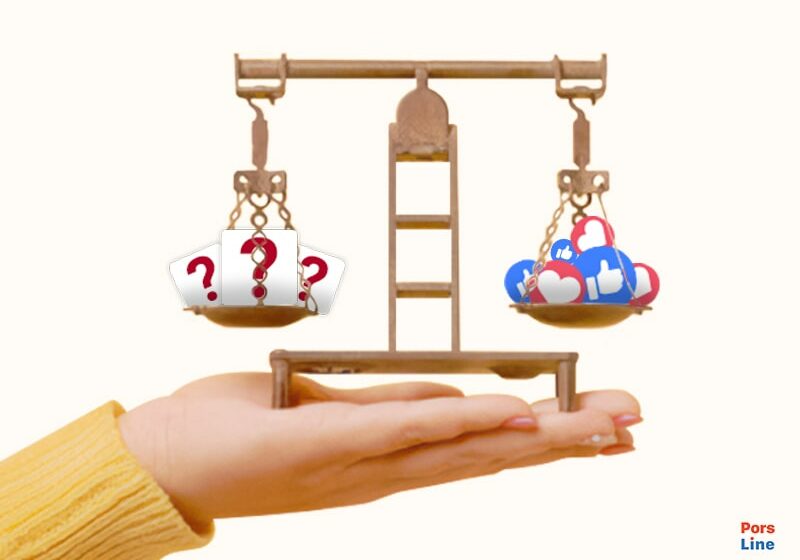 The ultimate guide to Customer Satisfaction measurement tools and importance
Contrary to the common belief of most managers and businessmen, achieving customer satisfaction does not necessarily mean providing the best services, you do not have to be "superb" to have complete customer satisfaction, that is where the Customer Satisfaction Survey comes in.
Harvard Business Review reports in an article related to the Customer Satisfaction survey that most customers respond positively to either a problem with the delivery of services or goods or defects in quality.
Most customers consider this a normal issue that might happen here and there, what is really important for them is the extent of the friendly communication of the customer support team with them, as the data available through the customer satisfaction survey states that as well. What most customers remember, after addressing problems that have obstructed their access to services, is how quickly and friendly the customer support services team responds and forget about the problems they were having.
Customer satisfaction is not always easy, so the managers of commercial and economic companies looking to satisfy customers should take the conduct of customer satisfaction surveys seriously.
These companies know very well that interaction with customers should be a top priority, so they encourage their customers to interact with the brand.
If the company does this right, it will lead to brand growth. It will also establish a ground for building a required degree of customer loyalty, this can increase its customers by 25% to 100%, which will eventually increase revenue.
What is the Customer Satisfaction Survey and when did it start to be used?
At the beginning of the twentieth century, the demand for several product types reached its peak, as Henry Ford was able to produce cars in large quantities. Additionally, the outbreak of World War I and World War II, as well as the Great Depression, made people want to consume more and more types of products.
American manufacturers had dominated world markets until the early 1980s, but strong competitors like the Japanese entered the competition aggressively so that they can gradually take over the market.
These developments which were welcomed by the international economy, have made American consumers aware of the weaknesses of some American products, thanks to the quality of competitors' products, which were rapidly acquiring global markets.
The opportunities for the power of American industries to market their products were coming to an end, as consumers had the right to choose, which made them the undisputed market power.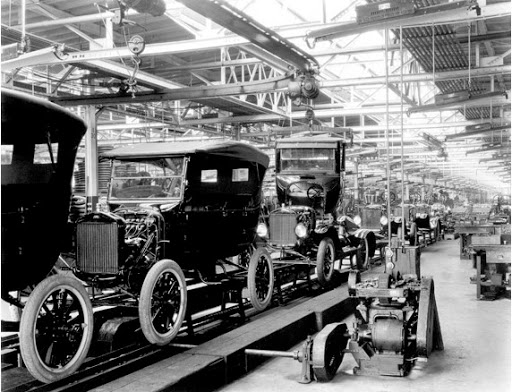 It is time for American producers to look for a better way to sell their products, as they understood that quality was important for all consumers, and they should appease customers to reach the top of world markets again.
But today we know that other different factors play a prominent role alongside the quality of customer satisfaction, such as customer experience and customer sentiment, which together lead to an increased level of customer satisfaction, taking into consideration that improving the level of customer satisfaction depends on the use of the Customer Segmentation.
The use of tools required to measure customer satisfaction has become a familiar theme since those years, as this will establish the appropriate ground to quickly find innovative ways of eventually increasing customer satisfaction.
The Client Satisfaction Survey is an appropriate and common tool for measuring the level of customer satisfaction, which has always been an effective method for many companies and businesses at the international level.
Why should the level of customer satisfaction be measured?
If you do not satisfy your customers, your business will be doomed to failure, for there are valid and reliable data that prove the importance of measuring the level of customer satisfaction.
Satisfied and loyal customers can become the best advertising source for a brand. Research conducted by the HubSpot Academy showed that 77% of customers buying from a specific brand do that because they enjoy a positive buying experience.
Keeping customers happy will be very useful for business in the long run, as relevant scientific research suggests that the cost of acquiring a new customer will be 5 to 25 times more than retaining existing ones.
In another study, 61% of participants in a questionnaire said that cultivating potential customers (Lead Generation) was the first marketing challenge for them, so it could be said that retaining existing customers was also a difficult task.
Marketing field research suggests that goods and products are 60 to 70% more likely to be sold to existing customers than to new ones.
It is worth noting that 65% of the revenue obtained by commercial and economic businesses comes from old customers, who spend 67% more than new customers according to some questionnaires.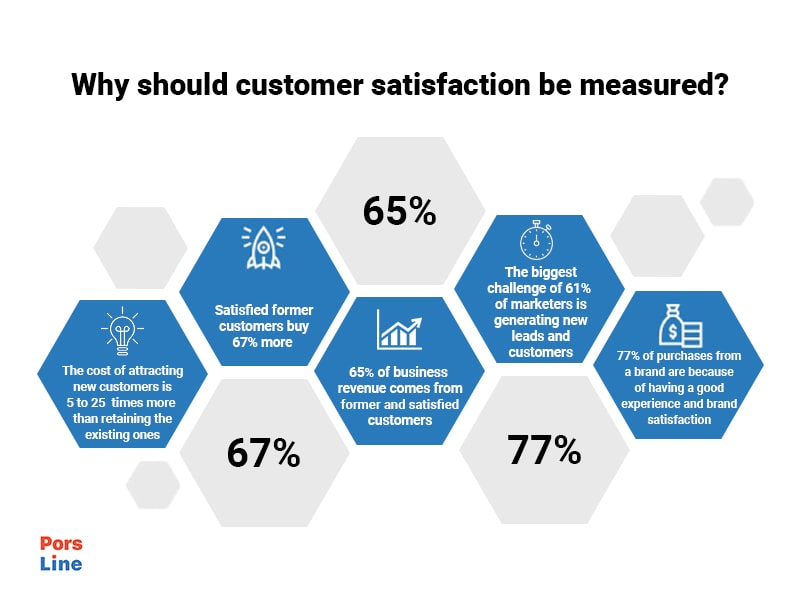 Dr. James Harrington, a well-known American writer, and businessman states the following:
«Evaluation is the first step that leads to control, revision, and eventual growth. If you cannot evaluate something, you will not be able to comprehend it, if you cannot comprehend it, you will not be able to control it, and if you cannot control it, you will not be able to improve and develop it»
If you do not recognize your customers' views by positively and constructively communicating with them, you will be like someone living in a bubble, which makes it impossible to get to know who your customers are. With such statistics, would it not make sense to keep old customers satisfied and always improve their satisfaction?
However, the benefits of customer satisfaction regarding your business boom do not end there. A question arises in this regard: Why do completely satisfied and happy customers feel they should go to your competitors?
If your customers are satisfied with your performance and the way you deal with them, the rate of retraction (Churn rate) of your customers will decrease, instead, the probability of retaining them will increase.
When the customer retention rate increases by only 5%, the profit rate will increase by 25% to 95%, which will increase customer loyalty to your brand.
Customers also trust people's opinions, and even strangers' views through advertising platforms, as influencer marketing is becoming very common nowadays.
If your potential clients hear from your former satisfied customers that your products and services are good, they will certainly trust your brand. You can achieve all these goals by asking customers' survey questions.
The above-mentioned survey questions should be correctly and practically formulated. The Porsline Customer Satisfaction Survey is the best way to help you achieve your ambitions in this regard.
Ways to increase customer satisfaction
If you wanted to keep your customers happy, it would be better to take into account your relationship with them in more detail, for the retention of existing customers depends on customer satisfaction.
If we want to deeply and clearly understand customer satisfaction, we can say that customer satisfaction is what customers expect from your brand as well as your ability to meet those expectations.
Note the following equation which summarizes the concept of customer satisfaction:
Customer Satisfaction = Brand Performance – Customer Expectations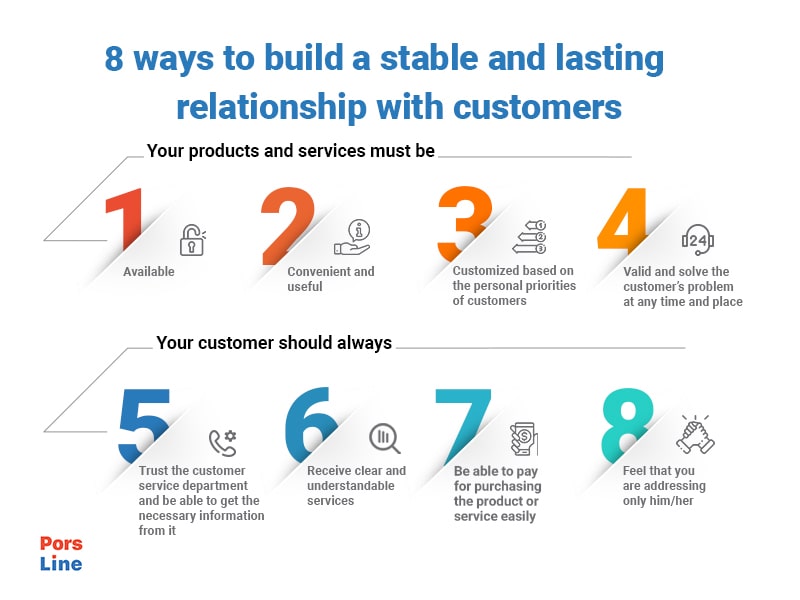 There are techniques to increase customer satisfaction – after getting to know its principles and rules – with such techniques you can raise your customer satisfaction, so what do customers want from you so that you can increase their satisfaction with your brand?
The answer to the above question is to take several significant factors into account to make customers comfortable by taking serious steps, the most important of which are described below:
Rapid response to customers' needs: Responding to customers' needs means quickly and humbly listening to problems they are having and trying to solve them. Your quick response to customers' calls will always be kept in their memory even if you cannot solve their problems. And if you want to meet customers' needs at higher levels, you need to make changes to your customer experience based on notes provided by customers as well as other indicators.
Be a customers' assistant and friend: Your offered products or services should help your customers address their weaknesses appropriately and effectively, and the performance of the Customer Service team should also be positive in order to address all problems experienced by customers.
Be aware of customers' feelings: customers do not only want to get effective solutions to problems and obstacles they are facing, but also like for you to pay good attention to their own needs. This attention to the humanitarian aspects of customers reflects the extent of your understanding of their feelings as human beings and not only as attractive sources of money.
Regularly evaluate customers satisfaction indicators: Customer satisfaction indicators help you know the customers' opinions at different times so that you can always meet their aspirations and desires or address and solve their problems. Evaluate customer satisfaction indicators using advanced and free tools.
Here we would like to point out Annette Franz's view in this regard, which includes very positive points:
«Customers' expectations have exceeded all limits, they are trying to get an experience titled as" simple, comfortable, easy, customized, relevant as well as coherent (at various times and across different channels)»
What methods are used to measure customer satisfaction?
There are several and different ways to measure customer satisfaction, the most common and consistent of which is the use of the Customer Satisfaction Survey taking into consideration its different indicators.
Here are some of the most common ways to assess customer satisfaction. Also, for further information you can read customer feedback strategies: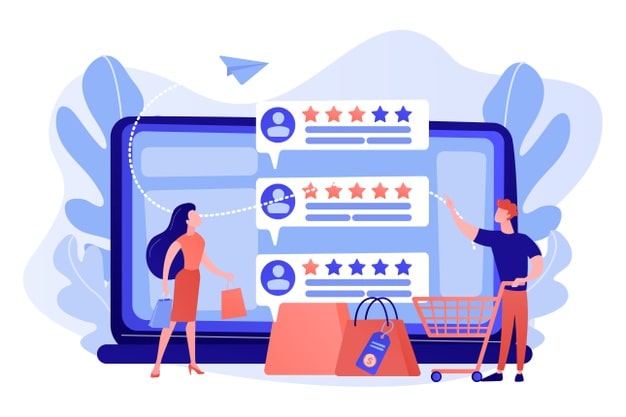 Use different types of Customer Satisfaction Surveys:
In the traditional methods, customers were surveyed in person or over the phone. Today, with the development of advanced business tools and easy access to modern technology, customer surveys are conducted online.
Porsline provides you with an integrated tool to accomplish this task and enables you to design the Customer Satisfaction Survey for free with simple moves of drag and drop, allowing you to provide customers with the online link to get their opinions.
Porsline provides its followers a wide variety of free online surveys, you can use these online surveys to measure different customer satisfaction indicators such as the Net Points of Promotion Index (NPS) and other surveys.
Data available online and their analysis:
These data are available for you online without any participation of your customer. The valuable data provided by Google Analytics or Heat Maps will help you better understand the customer's behavior.
Social networking activities:
Customers talk about brands on social media, if they are satisfied with the purchase, this is reflected in these social platforms, and if they are not satisfied, they will say it clearly.
In addition to receiving customer feedback through social media, you can also quickly provide appropriate responses to their problems. Your interest in what they are asking increases their satisfaction with your available services or products.
Receiving customer feedback over the phone:
This method of receiving customer feedback is very expensive compared to other communication methods, it now plays a modest role in recording customers' views, so it has become insignificant in our world today.
The use of this method dates back to the time when the features and capabilities of online survey software services were being developed. Afterward, different organizations and entities have gradually abandoned this method when they realized they could save time and money, in addition to the immediate analytical capabilities offered by the electronic services.
Receiving feedback over the phone is now more used to track and close the feedback loop with the customer, for example, it is common to coordinate phone calls with customers who always criticize or complain.
The above-mentioned use of phone calls comes within the framework of implementing the NPS in order to accurately understand the fundamental causes of the customers' negative comments as well as to improve customer experience.
Exploratory interview with customers:
Follow these principles during personal interviews with customers:
Focus on consumers' views and attitudes. Find out how they think about a certain problem, for example, the color of a product packaging may be an important subject, but more importantly, whether or not they understand the product uses, because this solves their own development problems.
Use the "Main Problems" method, where you can ask customers for some examples about their main problems during the use of a product/service or even which parts of it work well.
Inquire about customers' habits. Asking customers how to do a particular task can lead to identifying problems they did not know they had before. For example, we, Porsline, in the field of human resources, ask detailed questions during the first contact with potential customers, where we ask the human resources manager at such meetings – Whether real or virtual – how they are currently evaluating staff performance and conducting questionnaires. When we find out that they use a wide range of paper surveys, we explain the features of the online survey and present its benefits, on the other hand, when we encounter an organization that uses web-based platforms such as SharePoint, we focus on the benefits, speed, and cost of Porsline's e-services and explain them to the organization and their Human Resources department.
Usability test:
Implementing the usability test for measuring customer satisfaction – compared to other methods – requires further preparation and planning prior to implementation and also provides a deeper perspective and vision.
This method of receiving customers' feedback is more applicable to websites and online products, but its principles can be applied to any kind of business.
Just to give an example about this method, a restaurant may offer a new dish on its menu to customers free of charge within a specified period of time to obtain constructive feedback from them.
Why should an e – Customer Satisfaction Survey be used?
Managers of customer support departments, customer communication departments, and after-sales service departments are well aware that paper surveys have become history due to their high conducting costs, as well as the prolonged receipt and analysis of customers' notes.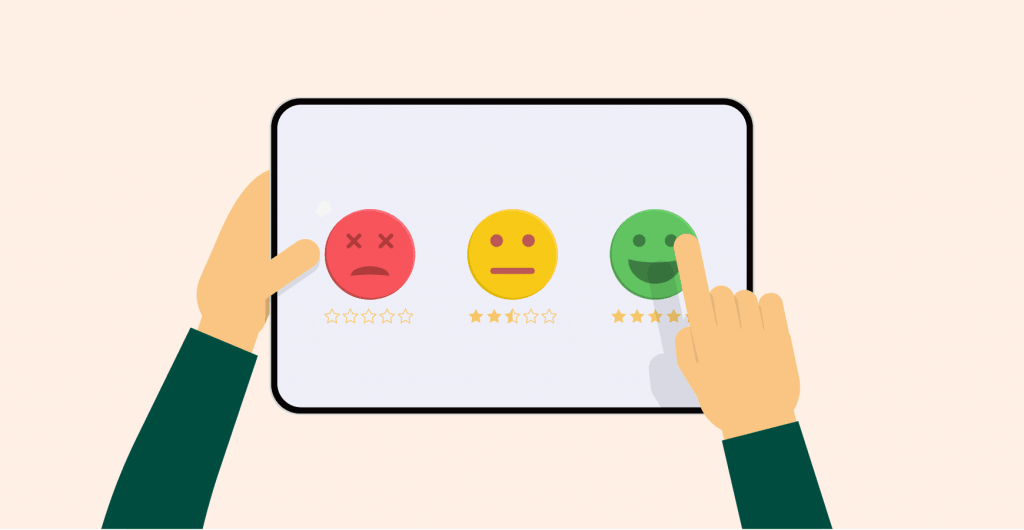 One of their most important options is using specialized technical teams and IT teams accredited to enable the company to conduct the required surveys, but this option is not only expensive but also imposes other burdens on the company by being low in both effectiveness and flexibility.
One of the requirements of managers who have applied CRM, Customer Club, or Voice of the customer in their organizations is to integrate these tools together with the ability to conduct customer surveys and also make use of them at a low cost and very little time. For example, one of the uses of a survey is to receive customer feedback about a call center.
Porsline provides this possibility to managers and relieves them from the burden of manual checks resulting from the implementation of their required processes, as the site gives them the possibility to do that simply and easily by automating all the work.
Therefore, the unique features provided by Porsline help managers conduct Customer Satisfaction Surveys cheaper, faster, and easier.
You can get the following possibilities by using the Customer Satisfaction Survey on Porsline:
Full compatibility with Arabic:
Porsline allows you to give your surveys a good look by supporting right-to-left writing and using standard Arabic font types and other features in order to increase audience interaction with surveys.
There is no need to install any software to use Porsline. Just logging in to the user dashboard is sufficient to simply create your own customer satisfaction surveys.
Many of Porsline features are free and can be used without any time constraints.
If you are not an expert in programming, there is no need to worry, Porsline does not require knowledge of programming and you can build your surveys through no more than simple drag and drop moves.
Porsline surveys are compatible with mobile phones and tablets, you can use these surveys on all devices without worrying about any irregularity in size or dimensions in your questions.
You can make your surveys available to your customers via e-mail, applications such as WhatsApp, Telegram, various social networks, or by including these surveys on your own website.
Porsline protects your data by implementing the SSL encryption protocol so you can always rest assured that your information is completely secure.
You can post your surveys according to the color and structure schemes adopted in your organization thanks to the survey design and color system offered by Porsline, in addition to the possibility of including images, videos, audios, and links.
Once you receive the first answers from the respondents, you can use the Porsline Report Builder to receive the results of your data analysis in different forms using graphs, charts, and tables.
You can make your survey smart by using the "Add logic" feature on Porsline, when the respondent clicks on the survey link, he/she will automatically be led to a specific set of questions, based on their answers. For example, if you have defined a set of different questions for men and women, you could direct respondents to two different sets of those questions depending on their gender by using this feature, and if you have an online store, you can transfer customer information from your website or app into your survey in order to display questions related to this customers' purchases.
The ability to add score to the survey helps you to create an online quiz, calculate performance scores for your employees, establish pre-recruitment entrance tests or post-course evaluation exams, build an online shopping basket, and dozens of other similar use cases.
The ability to authenticate respondents: In the enterprise plan of Porsline various mechanisms are in place to identify the target population before they begin to answer, with these mechanisms, you can assure respondents that their answers are recorded anonymously out of respect for their privacy. The respondent authentication feature helps you to carry out, for example, employees' surveys to ascertain the identity of the respondents, so if you want to use the organization email to access the survey, you can use the "Enter via organizational email" feature, whereas if you want respondents to log into the required survey using a random or special code, you can use the "code access" feature.
Using Porsline's API on your website allows you to integrate your information with Porsline.
The ability to use custom variables is one of the advanced features of Porsline, for example, when you want to send the survey link via SMS, e-mail, or social networking applications, you can use these variables to see which respondents from which sources have responded to your survey. Also, when you have information from your customer or employee and you do not need to retrieve this information from them, but you only want to use this information in analyzing the results of the survey, here you can use these hidden variables.
Types of Customer Satisfaction Survey forms
If we want to survey the level of customer satisfaction with any one of the brands, many surveys can be prepared. We design some surveys to know the customer's opinion about a particular product or service, and we design other surveys to evaluate the company's performance in a particular market segment. Therefore, you should choose the survey that ultimately leads to achieving your ambitions.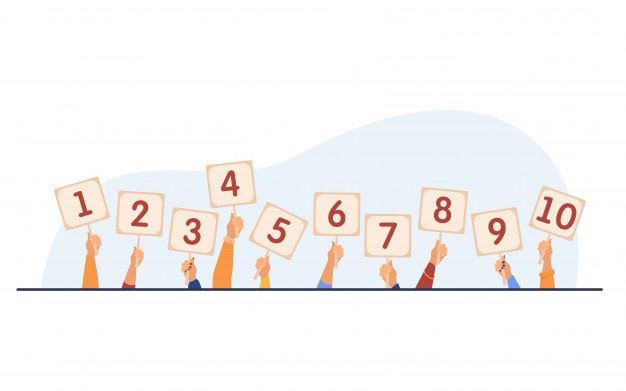 The most common types of customer satisfaction surveys can be said to be:
Customer Satisfaction Survey
Customer satisfaction survey CSAT is one of the most common methods for measuring customer satisfaction. Customer satisfaction can be classified in this survey by asking questions that reveal satisfaction in different cases, and it is classified from 1 to 3, 1 to 5, 1 to 10, or in other ranges.
The customer satisfaction survey is used more than other surveys for two main reasons, simplicity and effectiveness. It is very easy to analyze the results as well as discover how the customer thinks about the brand, so it is best to start creating a customer satisfaction survey right now.
Companies often use the customer satisfaction survey regularly and periodically to evaluate the impact of strategies, projects, or the results of modifications made.
Customer satisfaction survey questions should be clear, easy, and direct so that customers can provide answers without any problems or complications.
On Porsline, you can build a customer satisfaction survey through several simple drag and drop moves and send it to your customers via email, SMS, or social networks.
You can also use the Customer Satisfaction Index Calculator to evaluate the results obtained from completing a customer satisfaction survey.
Net Promoter Score (NPS)
Net Promoter Score (NPS) Survey includes questions that are asked of customers to find out their reactions to the topic of the survey. Here we indicate the most important of these questions:
"On a scale from 1 to 10, how likely is it that you will tell your friends, colleagues, or acquaintances about this product or service?".
The Net Promoter Score (NPS) survey reflects the loyalty of customers to your brand, through which you can learn about the opportunities for them to provide advertising in your favor by talking and recommending your product/service to their acquaintances or friends.
Customers who give the brand a score of 1 to 6 are usually known as "detractors", customers who give the brand a score of 7 to 8 are usually known as "passives" and customers who give the brand a score of 9 to 10 out of 10 They are commonly known as "promoters".
You can also use the Customer Satisfaction Index Calculator to evaluate the results obtained from completing a customer satisfaction survey.
Net Promoter Score (NPS) helps commercial and economic companies to measure the level of customer satisfaction with a provided product or service, and many large companies use the Porsline website to complete this survey.
The best way to test the Net Promoter Score is to use tools like the Porsline website.
Customer Effort Score Survey
The Customer Effort Score survey is designed to measure the level of customer effort to carry out a specific task. For example, if you want to know how long it takes customers to choose products on your website, you should use the Customer Effort Score Survey.
You can use numerical, text, and image-based methods in the Customer Effort Score Survey (CES) on Porsline.
The CES Customer Effort Score Survey is used to predict customer behavior, satisfaction, and brand loyalty. And the easier it is to use a provided product or service, the more likely it will be recommended to others by customers who are satisfied with its performance and quality.
You can also use the Customer Satisfaction Indicator Calculator to evaluate the results obtained from completing the CES Customer Effort Score Survey.
Stages of measuring the degree of customer satisfaction
Now that you are familiar with the basic concepts of the customer satisfaction survey indicators, it is time to plan this important step and implement its various stages correctly to obtain the required results from the customer satisfaction survey.
The first step: defining the objectives of the customer satisfaction survey
Although the customer satisfaction survey is a method of collecting information regarding customers, it will not be useful if the resulting information does not improve the performance of the company and the way it provides its services to customers.
Therefore, you should ask yourself these questions first so that the outcome of the required survey becomes positive in the end:
What goals do you expect from conducting a customer satisfaction survey? What are the answers you are looking for?
What is the target group of customers in the customer satisfaction survey?
What will you do with the information you get?
General and vague objectives such as "I want to conduct a customer satisfaction survey to get more information about my customers" or "I seek a better understanding of customer expectations through the customer satisfaction survey" will only lead to unclear results in the end.
The more accurately you specify the objectives of the customer satisfaction survey, the more likely the obtained information will be useful to the company. See the following examples:
Through the customer satisfaction survey, we are looking to identify the required and valuable form of services from the customers' point of view so that we can quickly improve these services.
Through the customer satisfaction survey, we are looking for feedback from customers who buy products or services online regarding the payment and delivery of goods or services.
We are looking to know the needs of customers for which we did not provide a required response in order to improve the services provided to them.
The second step: Choose the required software to build a customer satisfaction survey
You definitely do not want to create a customer satisfaction survey or customer loyalty survey and distribute it on paper! Because you also prefer to save time and money in this regard. Therefore, you should choose survey tools and software that provide the following:
The chosen software should be user-friendly.
The reason why modern technological capabilities, including software or other tools, exist is the need to complete the required task quickly and comfortably. Thus, you should search for software with the following specifications to build a customer satisfaction survey:
No need for installation or special infrastructure at the equipment level.
Accessible online whenever you want and wherever you are.
The ability to build a customer satisfaction survey in less than 5 minutes with just simple drag and drop operations.
The possibility to publish customer satisfaction surveys online with one click.
Providing the capabilities of statistical analysis so that the customer satisfaction survey does not require any other software.
Data security insurance.
The chosen software should have characteristics that allow the creation of a customer satisfaction survey at different levels from the simplest to the most complex.
The software chosen to build a customer satisfaction survey should allow all types of commonly asked questions including multiple-choice, text, and spectral questions.
Appropriate software for creating a customer satisfaction survey should also allow the "add logic" feature, the definition of logical relationships between the different types of questions, and the possibility of determining the way to calculate and add scores.
Appropriate software for creating a customer satisfaction survey should have specific tools for data collection and automation as well as using available customer information in the context of completing the survey and unifying it, when necessary, with other databases of the organization to make the pace of work completion in an automated framework.
Appropriate software for creating a customer satisfaction survey should also have the satisfaction of the respondents themselves, as the software must have appropriate features and colors as well as be compatible with various electronic devices including mobile phones, tablets, and computers.
The prices of the selected software must be appropriate.
When talking about pricing, time should also be taken into consideration, as the software chosen to create a customer satisfaction survey should have the capabilities of reducing the time required to create the survey in addition to ​possibilities for immediate statistical analysis ​to provide managers with the available data to make the required decisions directly.
If the customer satisfaction survey takes several weeks to create, in addition to other weeks after that to collect and analyze data, and additional weeks to deliver the analyzed data to managers so that they make the required decisions, then this survey will not be a positive indicator of the continuous improvement of the organization's performance.
If you want to enjoy all the above-mentioned features, you just have to go to the Porsline website software to build a customer satisfaction survey because it meets your goals very comfortably.
The Third Step: Planning to publish a customer satisfaction survey
To publish a customer satisfaction survey, you should think of spaces in which customers are more present to attract more of them to participate in the customer satisfaction survey.
There are different ways to find clients such as online websites, e-mail, and SMS, they can also be reached through social networks or even by face-to-face interview.
The process of communicating with customers in this context can be done through the use of multiple communication channels to obtain the largest possible number of responses, as each group of customers has characteristics that distinguish them from the others.
The Fourth Step: Design and build a Customer Satisfaction Survey
The Customer Satisfaction Survey and Customer Loyalty Survey fall within the framework of the organization's customer experience management, as the survey reflects a key factor in dealing with the customer.
In fact, this survey interacts with the customer on your behalf, from this standpoint, observance of the principles of designing and creating the survey is of great importance.
An effective customer satisfaction survey has five main parts:
Introduction: Introduction and welcome page for participants, information about the company, as well as the objectives of creating a customer satisfaction survey, and the time needed to answer the questions asked in the survey.
Classification of target groups: Customers are divided into different groups according to the definition of each group of customers, where every participant is directed to interact within the framework of the target group in which he/she falls.
Main questions section: This section reflects questions that are extracted directly from the core of the desired objectives in the context of creating a customer satisfaction survey.
Final Views: This section is concerned with collecting the opinions of customers that are presented openly to express their views freely without being restricted by the necessity of answering predetermined questions.
Concluding part: Providing a "Thank you page" to thank participants in the customer satisfaction survey and directing them towards enjoying the discounts announced by the survey creator or participating within the framework of the lottery when necessary.
Important notice: It is better to formulate the questions in the customer satisfaction survey so that they do not need more than 10 minutes to be answered, as the longer the period needed to answer the questions, the more likely it is for the customer to leave the survey without completing it.
The fifth Step: Analyzing the answers to the questions asked in the customer satisfaction survey
Analysis of customer satisfaction survey data does not necessarily require complex systems, as 80% of the topics raised by different business managers can be analyzed within the framework of simple analytical methods such as synthesis analysis, consistency analysis, and frequency analysis.
The answers obtained through the participation of customers in the framework of the customer satisfaction survey may be different and miscellaneous, it is better to take into account the points mentioned below in this regard:
Using the information obtained through the customer satisfaction survey and the data available through other systems such as the customer club or the customer relationship management system (CRM) simultaneously for analysis. Note that the feature of using "custom variables" helps you in this direction effectively.
Statistical graphs and various indicators such as the Variance Index can shed light on the opinions of customers and extract their implications. It is better to use such concepts.
The feedback from customers represents the beginning of the dialogue between the customer and the company by taking corrective steps and announcing them. When there are negative comments, managers or administrators of customer service departments should contact customers directly to solve their problems.
Using available data to improve the quality of products, services, or processes. When you have comprehensive and direct information from customers, you can make appropriate decisions to develop the path with better accuracy. It is enough for you to study the data carefully to identify the first development priorities. The available data lead you to eventually choose the people whose participation is required in the pace of implementation of the corrective measures taken and to identify the necessary resources to implement the decisions or determine the time frames to obtain positive results in the near and far future.
Useful tools and methods for measuring customer satisfaction
Tools always help you make the path shorter, less expensive, and get the work done faster. The types of tools, methods, or strategies used present very interesting help. If your organization is large with a huge budget or even if the organization is small with a limited budget, it is better to use these tools to move on the path of development very comfortably.
Customer Satisfaction Survey Tools
Porsline
Survey Monkey
SatisMeter
OpinionLab
Survicate
PollDaddy
GetSatisfaction
Net Promoter Score Tools
Porsline
io
AskNicely
Delighted
Wootric
Conclusion
Success in business and economics depends on achieving customer satisfaction. Even if the available products or services are unique in terms of quality, they will be doomed to failure if they do not succeed in achieving customer satisfaction.
If you want to succeed, you must collect the available data on customer opinions about the products or services provided by you at each stage of the progress of your commercial or economic project to analyze these data and use its results to improve the path.
Porsline powerfully helps you extract solid data through customer surveys, where you can analyze the available data using graphs related to each survey.
Join us now on a perfect journey towards exploring behind the scenes of the markets and exploring their future prospects with great comfort by using our services.